Asus Eee PC storms Euro PC maker chart
Acer tightens grip too
Asus saw its share of the European PC market more than double in Q2, and it's all thanks to the Eee PC.
So show figures from market watcher IDC. In Q2 2007, Asus' share of the PC market was a mere 2.8 per cent. One year on, that figure had risen to six per cent.
Its shipments rocketed from 497,000 units to 1.315m.
That was enough to push the Small, Cheap Computer maker into fifth place in the chart of European PC makers - and make it the fourth most successful notebook maker.
The European PC market was dominated by HP and Acer - respectively, the zone's number one and number two vendors. HP took 19.4 per cent of the market, up from 18.8 per cent a year ago. Acer's share increased by a much greater, from 12 per cent to 15.7 per cent, IDC said, though that's in part a result of its acquisition of Packard Bell and Gateway.
Still, it was enough to displace Dell, which saw its share essentially remain static, rising from 12.2 per cent to just 12.4 per cent.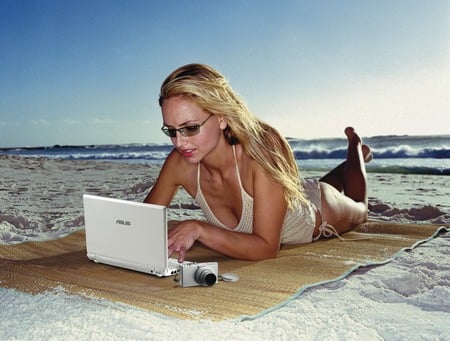 Asus Eee PC and friend: surging interest
Fourth-placed Toshiba saw its share rise year on year from 4.5 per cent to 6.3 per cent - just enough to keep it ahead of Asus. If demand for the Eee PC and its stablemates like the Eee Box continues to grow, Asus could easily sweep past Toshiba during the current quarter as it did this time with Lenovo.
HP has an SCC of its own on sale, but Dell and Acer have yet to ship theirs in substantial volumes. It'll be interesting to see how the arrival of their offerings this quarter shapes their stats, and whether it will act as a brake on Asus' expansion.
Q2 PC sales were up overall 24.5 per cent in Europe year on year, from 17.62m units to 21.95m. Notebooks continued to drive overall market growth, with shipments up 53 per cent year on year, while desktop shipments rose 0.7 per cent - more than IDC said it had expected.
COMMENTS
Epiphany?
Novel idea: dinky hardware, low-cost, linux distro, no MS$... quadruple appeal... add in its easy to use, easy to change/modify (other distros and/or say KDE on Xandros), so who cares if XP is chucked on it... it is shipped with linux.
Now maybe that might be the tipping point; past:ship kit with MS$ might consider change to linux... future:ship with linux*, just maybe (or not) change to MS$-lite..."Clapham junction, all change here"?
*or Apple
I feel I should join in...
With the sentiments expressed by other posters. I don't see why you would install XP on your EEE unless you had specific apps to run. If that is the case, why did you buy a linux laptop? I've yet to see any common task the EEE (with its stock OS) can't do, and do well.
Admittedly I replaced the stock OS on mine with ubuntu, but that's because I'm a fiddler and like changing things for the sake of it. I do intend to go back to the slightly more performant Xandros though.
How to wreck a great little machine.
"One XP install later and all is good."
(shakes head in sorrow...) I'll pray for you, unenlightened one...
Paris, because even she could probably use a modern Linux distro.
Lincoln was right
@Paul R.
Well! to quote Abraham Lincoln "You can fool some of the people all of the time"
I thought that the idea of the Eee was to be cheap but by putting XP on it you have managed to inflate the price by about 25% to 30%.
Can't handle Linux? My six year old nephew took to it like a duck to water, still I suppose the older you get the more inflexible and resistant to change you become.
spegru is right, after all the money spent in vain to protect your Eee you might like to try Linux again, after all what do you want to do with it, use Photoshop or Autocad?
HDTV?
1. Who hasn't got a 1080p telly these days?
Well, me for one!
As the picture quality of television continues to improve so the quality of things to watch continues to deteriorate.
Lately, I have settled for just watching the ten o'clock news. End of!
My last-century 28" CRT does just fine for that and when it breaks, I will save the cost of a TV licence rather than buy a new HDTV. I expect the cost of both will be about the same.