iPhone 2.0 unlock tool released, tested
Handset hacked
Hands On Apple released the iPhone 3G on 11 July and nine days later, iPhone hacking crew the iPhone Dev Team posted the latest version of the their jailbreaking and unlocking utility, PwnageTool.
First, PwnageTool 2.0 won't unlock a 3G iPhone, but it will jailbreak one to allow third-party apps to be installed through an alternative channel to the one Apple provides. I didn't try PwnageTool with an iPhone 3G, but I did test it on my first-gen iPhone, which was running iPhone OS 1.1.4, unlocked using the excellent ZiPhone utility. PwnageTool 2.0 is supposed to be able to both jailbreak and unlock the 'old' handset. I also tried it out on a Mac - a Windows version is in the works, and may have even been released by now. If not, be patient - it'll come.
First, I upgraded to iTunes 7.7. PwnageTool needs it, so I let Mac OS X's Software Update download and install the new version. Once it was up and running, I connected the iPhone. I was informed that there was a new version of the handset's system software, so I told iTunes I just wanted to download it, not install the update too.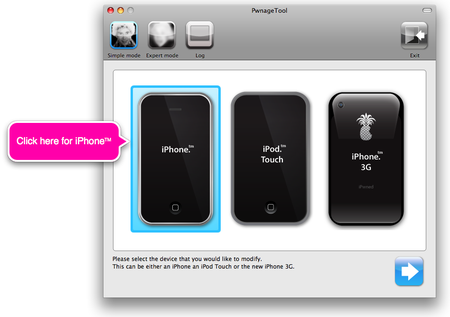 iPhone Dev Team's PwnageTool 2.0: hacking made simple
With the firmware update downloaded, I was ready to run PwnageTool. First, though, I set the iPhone into DFU mode, its 'restore my software' state. Turn off the iPhone. Press the Home button and while keeping it held down, push and hold the power key. The iPhone'll start up - when you see the Apple logo, let go of the power button. If you get it right, you'll see the iTunes icon and a picture of the dock cable. iTunes itself will tell you the iPhone needs restoring - just click OK for now.
I also download Bootloader code mentioned by a couple of posters on the iPhone Dev site. I unzipped the file - and the Zip files it contains - and put the .bin files on my desktop.
PwnageTool shows you three devices: an original iPhone, an iPod Touch and a 3G iPhone. I clicked on the former. I also stayed in Simple mode. The utility then finds your new firmware download - you'll have to tell it where the code is, if you downloaded it to a specific location - then extracts the software, patches it and saves it onto your desktop. During the process, it asks you if you've run a previous version of PwnageTool.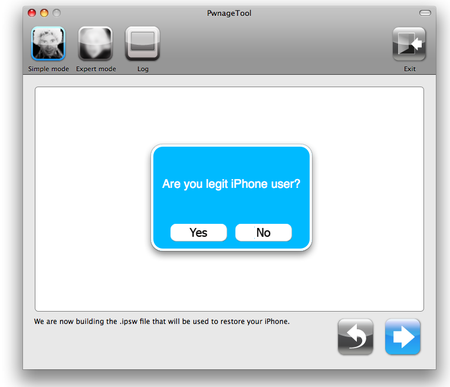 Who can say?
It also asks if you're a "legit" iPhone owner. Heaven knows what they mean by this - that your iPhone's not before been unlocked, presumably. I clicked on No, because my iPhone had been.
COMMENTS
Stuck in Limbo
I have a non-3G iPhone that was unlocked. After updating iTunes to 7.7, I accidentally hit some update button in iTunes and it downloaded and installed iPhone 2.0. It became useless of course.
I tried running Pwnage 2.0.1 to no success. When trying to do the custom restore, iTunes says, `The iPhone "iPhone" could not be restored. An unknown error occurred (6).`.
When I try to re-run Pwnage, I can't get it to shut off to go into DFU mode. It keeps rebooting into Restore mode (with the iTunes logo and USB pointing to it).
I tried to use ZiPhone with it, but it can't find the iPhone even though iTunes can.
What next?
@Chris
I was thinking more along the line of:
Mac Guy from PC/Mac ads: 'I'm an iPhone, I can do anything Steve Jobs thinks I should.'
Keanu Reeves: 'I'm Neo. I know Kung Fu.'
Who IS Webster Phreaky?
Here's the little Mac Phreak
http://profile.myspace.com/index.cfm?fuseaction=user.viewprofile&friendid=158300923
Unlock tips
Just to clear things up as I got stuck on this for about 2 hours. If you need to unlock your phone, make sure you say you are NOT a legit iPhone user. I honestly thought this was a joke and hit yes 3 times, and didn't know why it wasn't unlocking the phone.
And again, if your phone is in DFU mode you will NOT see the connect to iTunes screen, it will just be black! You can do this by, Holding the power button and home button at the same time, count to 10, on 10, release the power button and hold the home button for another 10 seconds. If you did it right, your iphone will be black, and iTunes will prompt you for restore.
@Henry The point of jailbreaking your iphone 3g is not so obvious at the moment, but in the very near future you can expect to see applications use parts of the phone that is not available in the SDK. For example, background processing could be hacked in, but only with a jailbroken phone and many other internal "Apple Only" things could easily be extended once your device is jailbroken.
Also, Why is that I have to fill out 15 field form to write a comment? Email validation is already pushing it. In addition, I did not want to be a part of the newsletter so I unchecked opted out using the checkbox. Upon the submit, I had an error, I quickly fixed it and submit again, before it posted I noticed that the checkbox had defaulted back to checked. Not very nice.
Erm.. value?
So - the review is of something that is generally accepted to be do-able anyway. The biggest piece of news surrounded the 3G version but that wasn't tested.
Still good to see. It looks like this will be the only way I can get an iphone, ironically to use with O2. As an existing customer, they still won't let me get one until my contract expires - 4 months away. Gits