Fujitsu intros half-a-tera pocket drive
World's largest capacity?
Fujitsu has unveiled what it claims is the world's highest capacity 2.5in external hard drive, the only problem being that… er… it's not.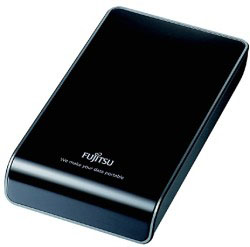 Fujitsu's 500GB 2.5in drive
The company claims that the HandyDrive storage unit features "the world's highest capacity 2.5in external hard disk drive with up to 500GB of storage space in one drive" - ie. it doesn't have a pair of 250GB units bolted together.
But someone should have told Fujitsu that LaCie also has a somewhat stylish unit out that crams in a 500GB Hitachi Travelstar 2.5in drive.
Nonetheless, Fujitsu's HandyDrive 141 x 82 x22mm measurements mean that the USB-powered drive can be taken practically anywhere. Fujitsu's even equipped it with a robust case with an internal shock-endurance mechanism.
The 500GB model spins at 4200rpm, as does the 400GB option. However, the smaller capacity 320GB, 250GB and 160GB models have a faster, 5400rpm rotational speed. All capacity models have a maximum data transfer rate of 60MB/s and an 8MB read/write buffer.
A tool for locking access to the drive's data with a password is also included.
Fujitsu's 160GB, 250GB, 320GB and 400GB HandyDrives are all available now, with prices ranging between €79 (£62/$124) for the 160GB model and €179 (£142/$284) for the 400GB model. The 500GB drive will be available later this month for €229 (£181/€362).
Sponsored: Minds Mastering Machines - Call for papers now open