Shuttle intros Phenom-friendly media centre barebone
Time for a new look, guys
Isn't it about time small form-factor specialist Shuttle came up with a new case design? This week, it touted its "new" H7 housing, but plenty of punters will have a job spotting how it differs from the rest.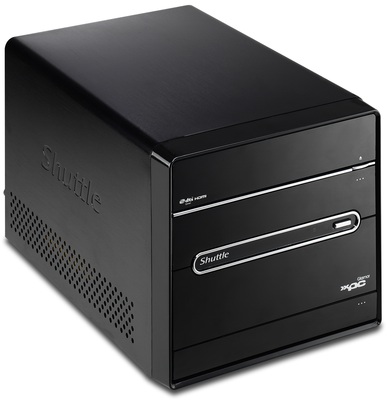 Shuttle's XPC SN78SH7: 'new' enclosure
Aimed at AMD's Socket AM2+ CPUs, the barebone chassis incorporates a motherboard based on Nvidia's GeForce 8200 integrated chipset.
Pitched as a media centre machine, the XPC SN78SH7 has a back panel has an HDMI 1.3 port that supports HDCP copy protection - essential for connecting the computer to an HD TV. There's a full array of 3.5mm audio socketry, some with integrated digital optical audio links. The system's sound is handled by an eight-channel audio chip with DTS Connect and Dolby Digital Live! certification.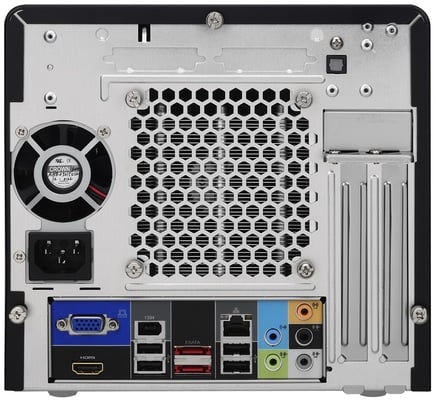 HDMI 1.3 on board
If the DirectX 10-compatible integrated GPU isn't up to snuff, the SN78SH7 has a PCI Express 2.0 slot for a graphics card.
The whole lot's fed by a built-in 300W power supply that delivers, Shuttle said, a power conversion efficiency of more than 80 per cent.
Available now, the SN78SH7 costs €284 ($451/£225) before local sales tax is applied.
Related Review
Shuttle XPC Glamour SN68PTG6

COMMENTS
too boxie
Still too boxie and dull compare to Asus and Apple mini.
Attention Shuttle:
Media Centres are shaped like Hi-fi separates.
Pitched as media centre
And very nice too, but why oh why don't they make these with at least the option of an LCD/VFD display? As it is, about the only viable cube format cases are the Morex 668 and 669 - which don't have such a display but at least have enough space (and no fancy but hindering stealth covers) to slot one in (decent displays, e.g. iMon, all seem to be 5.25" format) and still sport an optical drive.