Nike pulls Air Stab trainers
Outraged knife charities put their foot down
Nike has decided to withdraw its "Air Stab" range of trainers in the UK in response to "horrified reactions" from consumers and anti-knife charities, the Times reports.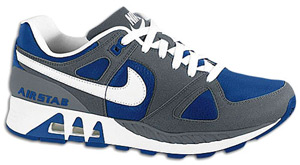 So far this year, 53 people have been stabbed to death in London alone, the Times notes, and last year "over 5,000 people across Britain were admitted to A&E wards suffering from stab wounds".
A spokesman for the company admitted the name was "obviously unfortunate, given the current issues that we face in the UK", but denied the decision was based on "worries that the name promoted or encouraged the use of knives". He added: "I do not think it might have a bad influence over young people."
Despite Nike's announcement, Air Stabs were still on sale in Niketown yesterday. A shop assistant told the Times: "The name might seem a bit bad, but it's quite innocent really. They were named before all the recent problems."
This cut little ice with the obligatory shocked shopper, 25-year-old Fatima Tarkhan, who thundered: "I think it's appalling. They probably treat it as just a gimmick, but it's not the sort of thing that should be made into a joke. It's not funny at all."
Crimestoppers upped the stunned incredulity quotient by describing itself as "astonished that a major retailer such as Nike could be this naïve and act so irresponsibly with its marketing". The organistation added: "With the current gun and knife epidemic that is sweeping our country we would expect retailers to be taking a more sensitive approach to promoting products to a young and impressionable market."
Nike is courting further controversy by apparently continuing to punt its "Pocketknife" range - a brand name which the spokesman not unreasonably defended thus: "It's an ACG, or all-conditions gear shoe. You can fold it up and put it in your rucksack. It's all about camping and being outdoors." ®
Sponsored: RAID: End of an era?