Blinkx bestows video search on world+dog
White Red label play
Blinkx is now offering a white label version of its transatlantic video search engine. But it prefers the name Red Label. "The Blinkx 'B' has always been red," CEO and founder Suranga Chandratillake tells The Reg.
With Blinkx Red Label, third-parties large and small can add video search to their own sites and, if they like, grab a little ad revenue. Blinkx has long offered access to its speech recog-ified search engine via outside portals - including Ask.com, InfoSpace, Lycos, and LookSmart - but Red Label streamlines this partnership game.
Most notably, the new program includes a self-serve option for smaller partners. With this hosted service, Blinkx says, you can embed video search in about three hours. The service is free, and if you agree to post Blinkx-brokered ads, the company will share half the revenue.
"Basically, we surround your search box with ads," Chandratillake says. But you can also add a video preview window to your site - letting surfers sample results before actually clicking on them - and Blinkx will post ads there as well, laying them over the edge of the video stream.
Meanwhile, larger portals can negotiate their own revenue-sharing deal with the Blinkx sales staff. MSN UK and Russia's Rambler portal have already announced plans to use a white Red Label video search interface.®
Bootnote
Unlike the old media minds over at video hoster Hulu, Blinkx has no intention of forbidding the use of ad blockers on its search engine. "We have a very tech savvy audience, and that probably means they use a higher percentage of ad blockers," Chandratillake says. "We do tell our advertisers what percentage of their ads get blocked. But we don't ban blockers. I think that's all part of the cut and trust of technology innovation."
This is how Hulu responds to the cut and trust of technology innovation: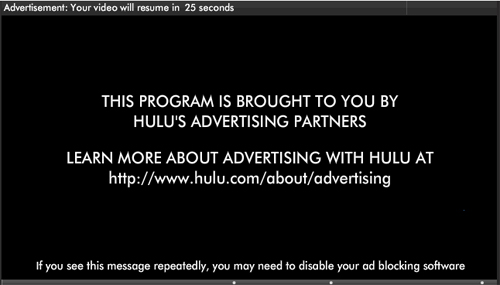 Hulu FUD
Sponsored: Minds Mastering Machines - Call for papers now open