BAE 'skips a generation' in killer robot tech
The one where it was cheap, to be exact
Farnborough UK-headquartered arms globocorp BAE Systems plc has shown off a raft of new robotic concepts this week at the Farnborough Air Show. But the newest and biggest kid on the BAE droidplane block is the Mantis, a large and powerful twin-engined technology demonstrator project whose wraps came off on Monday for the ceremonial inking of an MoD contract.
The Reg got a chance this morning to walk around the Mantis concept model here at Farnborough, and Steve Wright of BAE's Autonomous Systems & Future Capability arm talked us through it.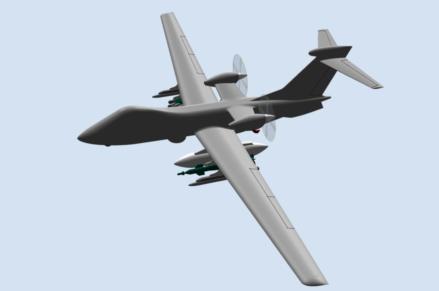 UAVs - now with unnecessary delays and duplicate costs.
In essence, it's a fairly normal unmanned aerial vehicle of the same general type as the well-known American Predator and Predator-B/Reaper. The exact capabilities and subsystems are being decided, but Mantis will have visible and infrared imaging, a ground-scanning radar, and in all probability a laser-dot pointer for precision guided munitions. The model here at Farnborough was shown with mockup smartbombs and "Brimstone" missiles attached, too (Brimstone is the Europeanised version of the successful Hellfire tankbuster, already employed on attack helicopters and Predators).
The Mantis has some special sauce not usually seen on current Predators and such - it will use onboard processing, allowing much less bandwidth to be used in downloading radar data. This potentially spares the British forces' pay-as-you-go PFI satcomms budget, and could be a popular feature. Likewise, the Mantis is intended to fly autonomously as much as possible, avoiding the severe pilot-manpower burdens associated with most of the present-day Predator fleet.
"As a company, we have not got drawn into the 'me too' group of unmanned air vehicles," said BAE robocraft chief Mark Kane in a statement earlier this week.
"We have skipped a generation and whereas most current UAVs are remotely piloted or have some automatic functions, ours are fully autonomous."
Even so, there's nothing really new here. Onboard processing has already been demonstrated on much smaller and cheaper platforms, ones already flying. And the US Army's new Predator variant, the Sky Warrior, is intended to land, take off and fly itself under the direction of a single, relatively cheap operator rather than needing two-man crews headed up by an expensive pilot round the clock. The Sky Warrior is already operational above Afghanistan.
Sponsored: Minds Mastering Machines - Call for papers now open