Intel rolls out Centrino 2, compares it to 2006's 'Napa'
Vendors follow with identikit laptop launches
The GM45's chipset's key advances are support for that 1066MHz bus, improved power management and a new integrated graphics core, the GMA 4500MHD, which runs at 533MHz, can grab up to 384MB of main memory for its video buffer and decode Blu-ray Disc's VC1 and MPEG 4 codecs. It also supports HDMI output with HDCP anti-piracy tech.
The higher clock speed and the addition of two extra graphics processing units - up from the eight in the previous generation of mobile chipset - yield a big performance boost... if you're comparing them ye olde Core Duo CPUs and IGPs.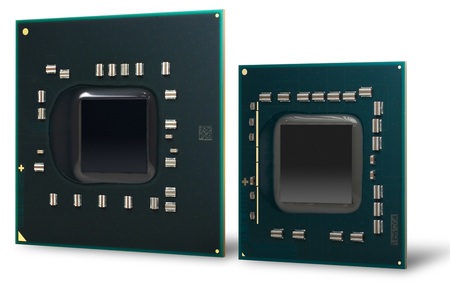 Intel's GM45: souped up graphics
Intel was quick to highlight "a dramatic improvement in video quality, over 3x better 3D graphics performance, over 80 per cent faster performance when compressing standard definition video, and up to 90 per cent faster performance when compressing HD video", but that's not over the previous generation of Centrino - aka 'Santa Rosa Refresh' - but, the small print reveals, "first-generation dual-core Intel Centrino processor technology-based notebooks".
Intel also introduced the PM45, a discrete version of the GM45. The PM45 will cost $39, the GM45 $43.
Apparently, Centrino 2 supports switching between integrated and discrete GPUs for better power management - why use a top-of-the-line graphics chip for rendering Windows XP's UI, for instance? However, Intel didn't say whether this can take place on the fly, or requires a restart.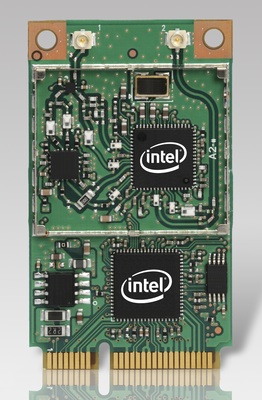 Intel's WiFi Link 5300: rated at 450Mb/s
Intel also rolled out the WiFi Link 5000 series of wireless adaptors. The important one is the 5300, which is said to be able to support a 450Mb/s 802.11n connection, up from the 300Mb/s all other Draft 2.0 802.11n can manage today, as typified by the WiFi Link 5100.
Hopefully, it won't be long before we see an access point capable of reaching the same speed as the 5300. It'll likely be an enterprise-oriented one when it does.
Curiously, Intel didn't mention the 5150 and 5350, versions of the above adaptors that also include WiMax.