RIM BlackBerry 9500 'Thunder' spied on web
Specs too
RIM's iPhone-wannabe touchscreen BlackBerry, the 9500, has made an early appearance on the web, complete with specs.
The new handset - which is still down as "not announced" on Expansys' website - is described as possessing a "stunning touch screen display, rapid 3G connectivity coupled with the popular BlackBerry instant email support.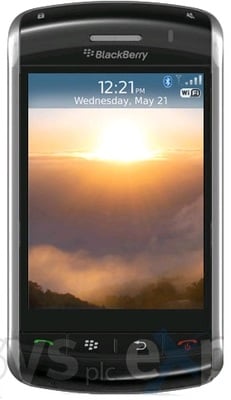 RIM's BlackBerry 9500: 'Then they stole Murphy's Thunder...'
It will apparently run BlackBerry OS 4.7 - the unreleased Bold, aka the 9000, runs 4.6 - and provide quad-band GSM/GPRS/Edge connectivity, along with HSDPA 3G and Wi-Fi.
Alas there's nothing in the published details to indicate whether, as has been claimed, the 9500 - codenamed 'Thunder' - will support some kind of 4G connectivity.
The 9500 piccy appears less iPhone-like than past Photoshop mock-ups that have surfaced on the web did. To be honest, we suspect this one has known a virtual brush-stroke or two - some of the lines don't quite match up. We suspect this is a composite of a Pearl and bits from a few other BlackBerries.
There's no word when the 9500 - whatever it looks like - will appear, but it's rumoured to be due sometime this quarter.
COMMENTS
Nooo don't do it!!
There are going to be some seriously pissed off business users when they take delivery of their new touch screen BB's only to realise really quickly that typing an email or any text on a touch screen whilst walking along is like threading a needle during an extreme off road driving adventure.
Despite the fact that he only has it on a two week test and evaluation I swear our IT manager was going to throw a new iphone in a bin in frustration this morning for that very reason. Not a fault of the phone either, just the nature touch screens full stop.
I know the intended market for RIM is getting less and less about pure business and commerce users, but with the inevitable price of this device I see little mass consumer penetration. Word isn't going to take long either to spread amongst the business environment that touch screens are fiddly fuckers to use on the move when trying to type.