Acer pitches Aspire One at Euro cellcos
Talking to T-Mobile, Orange and Vodafone
Acer is said to be talking to T-Mobile, Vodafone and Orange in a bid to persuade them to bundle its Aspire One Small, Cheap Computer with a USB 3G modem and subsidise the price through airtime subscription.
So claims an unnamed Acer representative cited by IDG.
The talks appear preliminary and exploratory, so it would be premature to anticipate a near-term announcement from one or more cellcos. At the very least, the ongoing tight supply of Intel Atom processors probably means Acer couldn't supply them - well, not without limiting supply through its usual retail channels.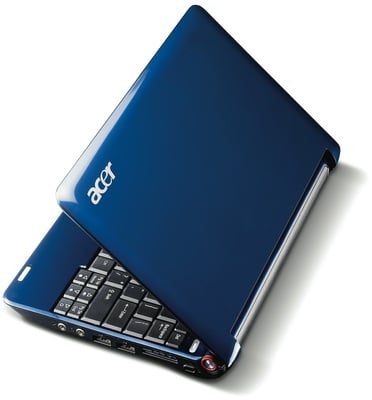 Acer's Aspire One: coming soon to a carrier near you
Still, there's a precedent for such an arrangement - as Register Hardware reported recently, the French division of Carphone Warehouse is offering just such a deal, offering a Airis Kira 740 with a 3G modem for €99 ($156/£78) if you take out an Orange data-oriented airtime package for 18 months.
Last week, a Japanese retailer began offering the Asus Eee PC 4G for the equivalent of 50 pence - again on the back of a long airtime contract.
Indeed, Asus' own HSDPA-equipped Eee will debut at the end of September, the company has indicated, and we'd expect it to punt the model particularly at carriers. Like the Aspire One, the Eee was designed with the ability to house a mini PCI slot to take 3G or WiMax cards, though not all currently shipping models have the slot fixed to the motherboard.
ECS has touted its G10IL 10in sub-notebook with integrated HSDPA - the laptop is expected to appear through a number of carriers in September or October.
Related Reviews
MSI Wind Windows XP Edition
Getac E100 rugged UMPC
Asus Eee PC 901 Linux Edition
Asus Eee PC 900 Linux Edition

COMMENTS
A few questions...
1) Is it out? can i buy it?
2) Can we have a review? (i assume this depends on (1))
3) Can we have the definitive Reg(tm) answer as to which one (wind, ee pc, one) is the best? (eee pc friend bias not withstanding)
<rant>
Most of the "reviews" of the "ONE" on tintahweb tend to just list the spec sheet (which is similar to the others), followed by saying it looks cool, followed by "EH?! the mouse buttons are on EITHER SIDE of the touchpad!!!??? OMGWTFBBQ" and pad this out to a page.
Then finish by mentioning that the uber (6-7 hr) battery costs a bajillion squid (£80ish? squid isnt worth what it used to be...)
The base models all seem to be extremely similar, by the time youve tricked it out with goodies (gig o' ram, better battery, *maybe* hd?) you're into normal laptop territory (as many other readers have pointed out), thus defeating the point.
</rant>
where is my trusted review? i want someone to have the courage to say "<specific model> is a bit poo", thus helping me make a decision!! (sp)
Hopefully yours,
Anon.