iRiver Lplayer 8GB MP3 player
Small and perfectly formed
Review After the disappointing E100 we're happy to report that iRiver's is getting back into its groove with the second device to hit the UK this year, the tiny Lplayer.
Our first reaction was, 'where the blazes are the controls?' The unit itself is only 60 x 43 x 13mm while the 2in, 320 x 240 screen is, well, small. And you don't need a calculator to work out that the unit is thus only a few millimetres larger than the screen in any given direction.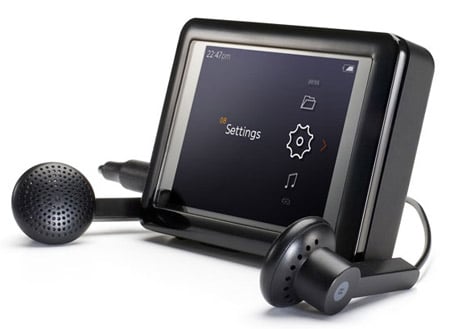 iRiver's Lplayer: where the blazes are the controls?
The clever thing with the Lplayer is that the entire screen and its bezel is mounted on a four-way pressure pad, so control of the usual iRiver D*Click user interface is accomplished by pushing down on one of the four edges of the screen. OK, at the end of the day it's a sort of a shrunk-in-the-wash version of the Clix, but as a way of maximising the screen:player size ratio it's a tough idea to beat. At 41g, the Lplayer is among the lighter players on the market.
To be honest, the L-Player does have some conventional external controls. Tucked away on the bottom are the on/off switch and the volume control, while around the back is a key-lock slider.
In day-to-day use, the design stands up rather well. To activate the relevant command, a pretty deliberate push is needed to make an adjacent on-screen arrow flash to show the command has been accepted, but this is doubtless a necessary compromise to prevent inadvertent knocks and bumps activating the player.
Sponsored: Minds Mastering Machines - Call for papers now open