Creative's Wi-Fi media player streams in
iPod Touch rival
Creative has taken the wraps off its latest portable media players (PMPs) and hopes the range will have you rockin' out over Wi-Fi.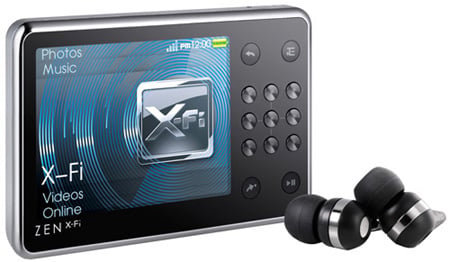 Creative's Zen X-Fi: now with Wi-Fi
The Zen X-Fi range comprises two models, but the Zen X-Fi with Wireless LAN is the real daddy of the duo because it allows you to stream and download music to it from a PC, with music played through, say, a networked hi-fi or a pair of headphones.
Both PMPs feature Creative's established X-Fi Crystalizer sound processing technology, which the company claims will restore tracks' "highs and lows" lost during ripping and compressing music into lossy formats like MP3, AAC and WMA.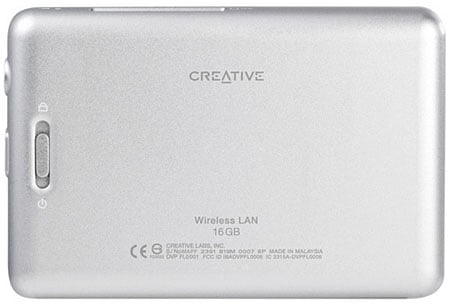 The rear: not as interesting as the front
The two players also support unprotected, DRM-free iTunes music which can be downloaded through Apple's online service. If nothing in your library takes your fancy, then you can swap over to FM radio.
Each model has a 2.5in display and content is stored on internal memory, although an SD card slot is included for expanding each player's native capacity.
Creative's Zen X-Fi with Wireless LAN is available in 16GB and 32GB models for £140 (€175/$280) or £200 (€250/$400) respectively, while the Zen X-Fi only ships with 8GB of internal storage for £110 (€140/$220).
COMMENTS
Yup, "the middle finger to Apple" thing
Far inferior sound quality to Creative. I got the second gen Shuffle and it is like listening through cotton wool. Even with Sennheisers. Felt so dirty the day I bought it. Only did it because it came down to £32 and it has the nice clip - only use it at the gym. I hate the whole bloated, stupidly overpriced, buy-buy-buy! iTunes experience and will never in my life buy anything from them. (e-music is great!). I even use a Python script to manage the Shuffle - so iTunes never needs to blight my eyes. Also, throw in iPod's restrictions on file formats, especially video - which is why the classic iPod is no good either, I need video. And I've become pretty anti-Apple over time. They are no longer the plucky little outsider, and are just as bad as MS, etc. for crapping over their customers, while their fans seem happy to obliviously lap it up. Being thought of as an 'apple fan' if anyone sees me with one of their products makes me shudder :)
really not an option?
Patrick - is the iPod not an option due to a dislike of Apple/iPod/iTunes, or is it really not an option for some other reason? I'm sure the 160gb iPod Classic would suit otherwise.
32Gb??
Are most people's collections really that small?? I can't fit everything I have on the 60Gb Zen Vision:M I have, and all the new players that come out are in the pathetic 8-32Gb range. iPod is not an option, so I'm left only with the enormous Archos or Cowons to choose from. Something the size of the X-Fi, with a bigger screen than the Vision:M, but at least a 60Gb HD is what I need.