Pioneer Kuro PDP-LX5090 plasma HD TV
Premium price equals premium quality
Next, we turned to HD broadcasts, and the image is spectacular. Even during the day, in a well-lit room, where plasmas are often less persuasive, the contrast was outstanding and noticeable. In The Wicker Man - the Nicolas Cage version - skin tones were strikingly real with detailed complexions and bright eyes. Shadows were consistently full of detail.
This was Sky broadcasting at 1080i - not the highest resolution possible for viewing on this screen, but the picture was smooth and artefact-free, even in the fastest scenes like the truck-crash that launches the plot. Outdoor scenes had depth of field, with vibrantly coloured flowers in sharp relief.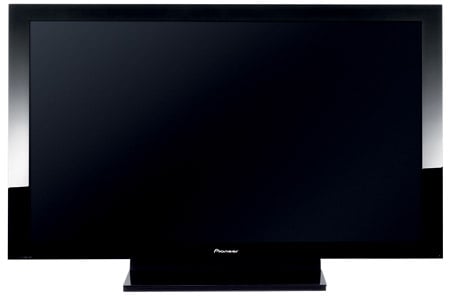 The gloss-black frame is simple, unadorned by colours and curvy shapes
Blu-ray looked better still. Sweeney Todd worked perfectly on this screen, its dark and grimy London scenes making the most of the blacks and contrast available, with the plentiful, deliberately over-bright blood shining out vividly in the gloom. This TV is particularly good at brilliant, sharp colours, avoiding the blandness that can dog LCD screens.
Sound is often disappointing on flatscreen TVs, but the soundbar here is effective. Of course it doesn't have the multiple speakers of more lavish separate solutions, but it's a step up from the usual built-in sets.
Verdict
This is an expensive TV that's double the price of what's on offer from some manufacturers, but is it worth it? Its plain styling is neat enough and unlikely to offend when the screen is switched off, but its stunning image quality is what justifies the price tag. The strong contrast and bright colours are strikingly good, making even the most ordinary content look great.
Even without extensive calibration, the screen delivers outstanding images and clarity, and is ideal for sport and fast-moving action films. Standard definition is great, but HD customers will be delighted by how good this looks. Worth it? Every penny.

Pioneer Kuro PDP-LX5090 plasma HD TV
Premium price, premium quality. The latest plasma from Pioneer delivers excellent pictures
Price:
£2500 including speakers RRP