Pioneer Kuro PDP-LX5090 plasma HD TV
Premium price equals premium quality
There are more settings available, such as gamma, noise reduction, colour management and colour temperature, but these are really the preserve of calibration freaks. Still, a handy feature is that once you've changed a setting, a quick press of the remote's blue button lets you compare before and after so you can decide which set of settings you prefer.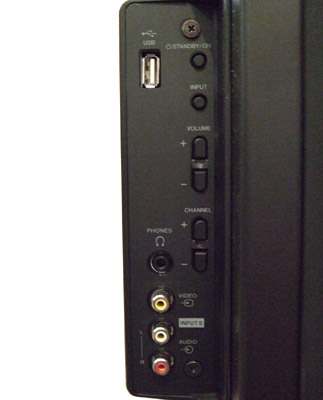 There's also USB, S-Video and Composite connections on the side
There are also picture settings for when you're playing games, and of course the facility to change screen sizes and formats to accommodate, say, subtitles. Pure Cinema is a setting to make the most of cinema-speed 24f/s content - aka '24p' - on Blu-ray Disc movies.
Which brings us to picture quality. At this size, flatscreens can reveal every flaw, especially in standard-definition broadcast signals. However, Freeview looked strong, with little fringing or artefacts noticeable in the tennis broadcasts we watched during testing because all the lines and text can prove challenging for upscaling circuitry.
Four buttons laid out along the top of the remote take you to four external inputs – a better approach than toggling through the AV inputs with one button, as many remotes require you to do. Big Brother varied according to the scenes on display – an overhead of the bedroom was indistinct and slightly washed out, close-up shots in the garden were sharp and full of colour.
Sponsored: Minds Mastering Machines - Call for papers now open