Pioneer Kuro PDP-LX5090 plasma HD TV
Premium price equals premium quality
Connections are good, but unexceptional, with three HDMI connectors, all on the back, aongside three Scart sockets, VGA "PC input", a Common Interface Slot for smartcards, component-video, digital audio out and speaker connectors. A separate panel on the side sports USB, 3.5mm 'phones, s-video and composite-video connections.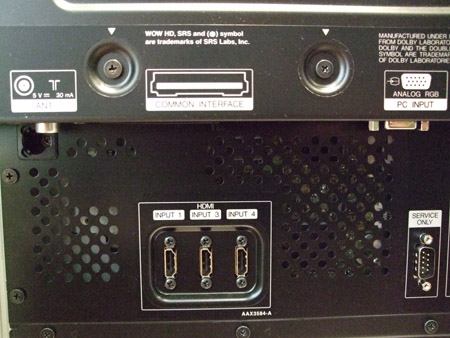 Three HDMI ports, but all on the back
Switch the TV on for the first time and channel tuning is quickly and efficiently achieved. The menus are simply laid out, with grey banners and yellow highlights to guide you. The LX5090 is straightforward to set up, then, and it's easy to use. Flipping between channels and inputs is simple. A dedicated electronic programme guide (EPG) button takes you to a surprisingly unattractive grid of channel details.
There are plenty of features on offer here, including those to make you look like a geek - like naming analogue TV channels - oh, so 3 is really ITV 1, is it?. Or the cool but only occasionally useful ones, like splitscreen. Here, you can have two equally sized images side by side or picture-in-picture.
This was helpful during Wimbledon, for instance, where you could watch two games at once by picking BBC HD - assuming you've a Freesat or Sky HD box - and BBC 1, but this feature may be under-used for the rest of the year. Besides, can you really concentrate on two things at the same time? The manual also warns that extended use of this feature can cause the screen-burn image retention that you never want to see on a plasma.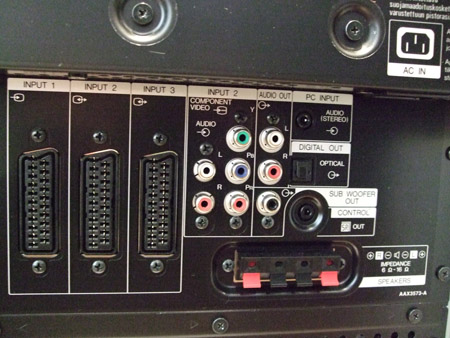 Plus three SCART connections, PC input, component and speaker ports
Still, there's an Orbiter function available during regular viewing that slowly shifts the image to reduce the possibility of burning and a video pattern screen-saver to try and eliminate after-image.