Groundbreaking two-in-one tubular console controller uncovered
Break-apart wireless controller spied online
It's already been rumoured that Sony's designing a wireless controller that breaks into two sections. But the electronics giant may have been beaten to it by a similar controller design that's codenamed 'Darwin'.

Motus Games' Darwin: breaks into two parts
Darwin comprises two tube-shaped controllers that can either be locked together to make one controller or snapped apart to make two. The unit can control all on-screen action and has already been demonstrated with the Harry Potter V: The Order of the Phoenix videogame.
Can't see the video? Download Flash Player from Adobe.com
The controller is being developed by Motus Games, which was founded by a bunch of graduates from the renowned Massachusetts Institute of Technology. The firm say that Darwin provides six degrees of freedom for movement, combining full rotational movement - three degrees of freedom – and full transitional movement, another three degrees, at the same time.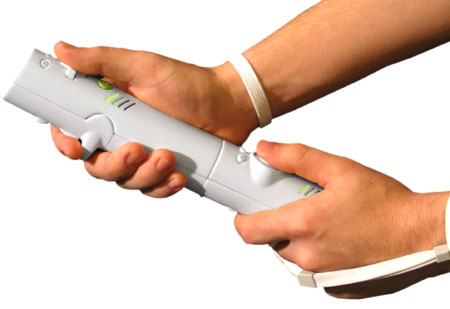 Use Darwin as one controller...
The firm claims Darwin's better that the Wii's Remote, which requires the controller to be within sight of an IR receiver bar for the console to recognise the all controllers movements.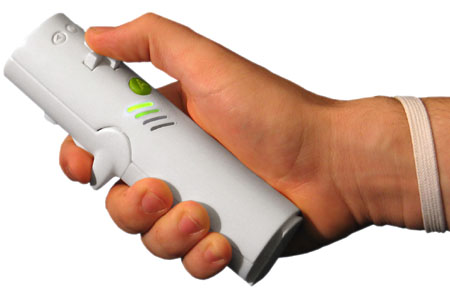 ...or break it into two
Motus hasn't said how Darwin communicates with consoles. It's also unclear if Motus is developing Darwin with one console in mind. Although the presence of a circular green 'A' button on the unit hints at the Xbox 360.
The official line for now is that Darwin's making its way into the hands of developers and publishers. However, Motus expects a retail version to be available within 12 months.
Sponsored: Minds Mastering Machines - Call for papers now open