3G iPhone disassembled, photographed
New handset easier to repair
It didn't take long for someone to splash out on a 3G iPhone and take it to bits. Mac repair specialist iFixit got its handset in New Zealand and has uncovered the phone's interesting under-the-bonnet features.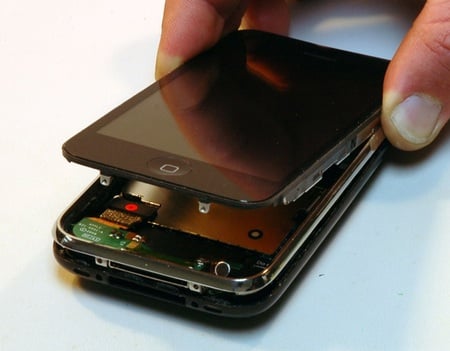 Apple's iPhone 3G: opening the case
Image courtesy iFixit
A couple of screws on the base of the new iPhone allow the screen assembly to be lifted, revealing the innards. Like the iPod Touch - but not the first iPhone - the LCD and its glass cover are not bonded together, allowing broken glass to be replaced without junking the entire display.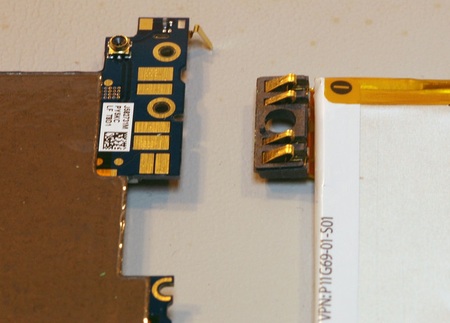 No more hard-wired batteries
Image courtesy iFixit
Another practical improvement: the battery's not hard-wired, so it can be replaced far more easily than was previously the case.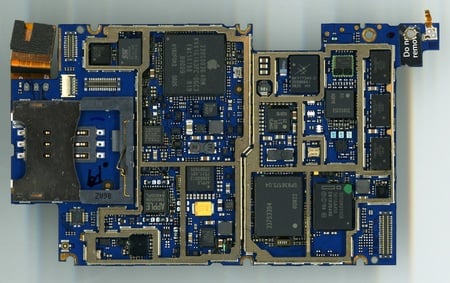 The main circuit board
Image courtesy iFixit
It also appears to be an 1150mAh pack - smaller than the 1400mAh battery used in the first iPhone. That suggests the superior battery life Apple claims for the 3G handset, when compared to the original, comes through better power management and components that use less power overall than their predecessors did.
Stripping out the circuit board reveals Intel NOR Flash chippery and a variety of connectivity components form Infineon. The processor is an ARM chip sporting an Apple logo, but the model number coding reveals it to be a Samsung CPU.
iFixit's full iPhone 3G strip-down can be found here.
Sponsored: Minds Mastering Machines - Call for papers now open