Nikon D40 entry-level digital SLR
Passed your compact proficiency test? Time to take on the DSLR
A quick tour around the camera reveals - on top - a pop-up flash, a large mode dial, an info button, an exposure compensation button, the shutter button and the on/off switch. On the right is a flap for an SD/SDHC card, a function button which can be used for setting the self-timer mode and other operations, such as shooting mode and ISO sensitivity, and a flash mode button.
On the left side is a flap covering mini USB and AV sockets. Around the back is a viewfinder, a 2.5in LCD screen composed of 230,000 pixels, a playback button, a Menu button, playback zoom button, the help button, a multi-selector rocker control, an AF/AE lock button and the delete button. At the bottom is a flap covering the battery compartment.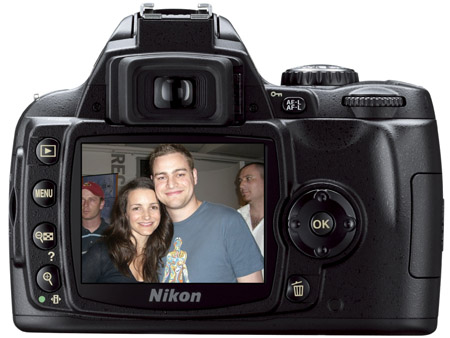 The LCD can be set to three display formats: classic, graphic and wallpaper
The D40 can shoot both JPEG and RAW (NEF) images, either separately or simultaneously. The highest image resolution for JPEG and RAW images is 3008 x 2000 pixels, with a JPEG file size around 2-3MB in this mode, and a RAW file around 5MB. The smallest JPEG resolution, with a compression ratio of 1:16, is 1504 x 1000 pixels.
In terms of features, the D40 offers an ISO range of 200-1600 with an additional Hi function that is roughly equivalent to ISO 3200. Shutter speed ranges from 30-1/4000s, plus a Bulb mode for keeping the shutter open for as long as required in manual mode. Continuous shooting mode lets you fire off 2.5 shots a second, with the memory buffer holding up to 100 JPEG images at the highest resolution.
The shooting modes on offer include auto, programmed auto, shutter priority, aperture priority, manual, plus eight pre-set programs that include macro, child, portrait and landscape. There are nine white balance settings and exposure compensation enables you to adjust the exposure by up to + 5EV in 1/3EV increments. Three types of metering are on offer: matrix, centre-weighted and spot.