Buffalo bullish over solar keyboard eco credentials
Eco-friendly typing
Solar-powered gadgets are coming off of production lines thick and fast nowadays, and the latest one to hit the desktop is a sun-lovin' keyboard.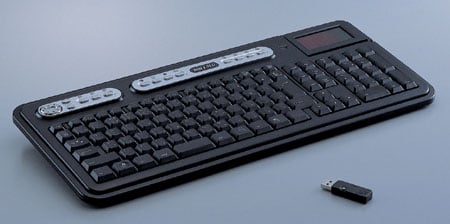 Buffalo's keyboard is solar or (if cloudy) battery powered
Manufacturer Buffalo states that the 4in solar panel integrated above the board's numerical pad can be adjusted to ensure it always soaks up the maximum number of rays. But, should the sun get stuck behind some clouds, then two AA batteries can be slotted into the keyboard to keep this boy going.
Although we'd have been able to think of a better product name than BSKBW01SB, it's nice to see that the keyboard's wireless - hence the power requirement. It operates over the 2.4GHz frequency, but not using Bluetooth, so you'll definitely need the bundled USB transceiver. Its communication range is about 10m.
Several short-cut media keys are featured on the keyboard too, including one for play/pause, another for email and a key for print.
Sadly, the BSKBW01SB keyboard is only sliding onto Japanese shelves. It'll appear later this month for around ¥13,775 (£65/€95/$130).
COMMENTS
Indeed completely pointless
You're unlikely ever to recover the energy used to make the solar panel. And how much power does the receiver take? I wouldn't be surprised if it's not more than a conventional keyboard.
Come on Reg - apply a bit of intelligence to your analysis of press releases.
Good effort...
...but completely pointless.
I get a good 5 months or so out of 2 AA batteries [sic] in my wireless 'board, pretty much only 4 a year. When it comes to saving the planet I think there are possibly better ways to expend brain power. And £65? It would take 20 odd years to offset the cost of batteries+regular wireless keyboard. The chance of a coffee related accident in that time must be very high reducing the average keyboard's lifespan considerably.