Nvidia GeForce GTX 280
Over-priced, over-specced and over here
It continues: "The initial version of 3DMark Vantage shipped with a PhysX installer that only included support for CPU physics and the Ageia physics chip. The initial version didn't contain a GPU physics installer as nobody had that product. Once we brought physics to the GPU through our Ageia acquisition, we updated the PhysX installer to add support for GPU physics.
"The same thing applies to Unreal Tournament 3. All we've done is update the installer to add support for GPU physics.
"The installer will be available for everyone to download off the Nvidia website this week, so folks can play with it and enjoy the new GPU physics effects."
In response, AMD pointed us towards this quote from Oliver Baltuch, President of FutureMark, on the matter:
"We are adhering to the rules set out in our previously published documents (PDF). Based on the specification and design of the CPU tests, GPU make, type or driver version may not have a significant effect on the results of either of the CPU tests as indicated in Section 7.3 of the 3DMark Vantage specification and whitepaper."
As a result, AMD is confident that Nvidia doesn't have Futuremark's approval for their GPU acceleration of PhysX.
Power Draw Test Results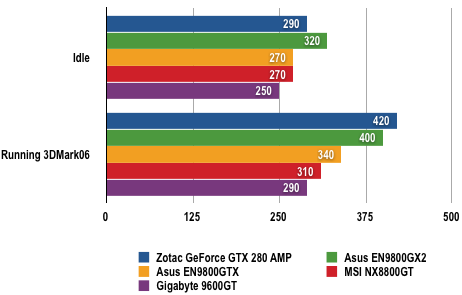 Power draw in Watts (W)
Of course, AMD will eventually offer physics-on-GPU code of its own, and Futuremark will have to revamp its tests to take into account the blurred line between CPU and GPU. For now, though, Nvidia can gain higher scores at the cost of ending apples-for-apples comparisons.
Unfortunately, we only had the Zotac for a short time before the business of driver 177.35 vs 177.39 kicked off, and we didn't get the chance to compare the two back-to-back.
At the very least, Nvidia is sailing close to the wind with 3DMark Vantage, but outside the rarified domain of benchmarks and back in the real world, the idea of handling physics on the GPU makes perfect sense.
We love the Zotac GTX 280 AMP! to bits but it's very hard to recommend the level of expenditure that buying one entails. For the price of a single GTX 280 you can buy a PlayStation 3, and if you're thinking of SLI or Tri-SLI GTX 280 that would pay for a decent 50in HDTV.
Verdict
Nvidia's latest and greatest graphics chip truly is superb, but it is also monstrously big, horribly power-hungry and ludicrously expensive. We're waiting for GT200b to bring DirectX 10.1 and GDDR 5 support to the party, and the sooner Nvidia rolls out 55nm fabrication the better.
Sponsored: Minds Mastering Machines - Call for papers now open

Nvidia GeForce GTX 280
You thought the GeForce 9800 GTX was fast? You ain't seen nothing yet.