Nvidia GeForce GTX 280
Over-priced, over-specced and over here
The GTX 280 AMP! Edition is a factory-overclocked card with the core speed raised to a nice round 700MHz, the Shaders to 1400MHz and the memory to 2300MHz. By contrast, the junior GTX 260 has eight clusters of shaders, seven ROP clusters, and has all the clock speeds reduced slightly. As if that wasn't enough the 512-bit memory controller in the GTX 280 has been reduced to 448 bits for the GTX 260.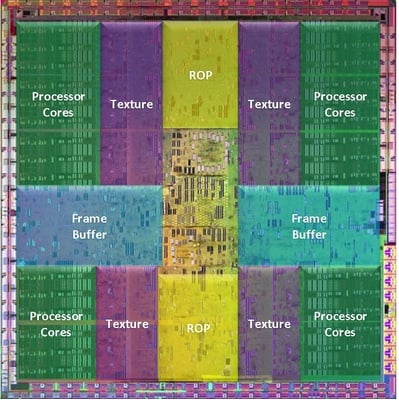 Nvidia's GT200 design
The power requirement of the GTX 260 is quite steep, however, rising to 236W. It can get away with a single six-pin PCI Express power connector. The GTX 280 is in a different league, and sports both a six-pin connector and also an eight-pin one, just like the GeForce 9800 GX2.
AMD went down a similar route with the Radeon HD 2900 XT, but you could choose to plug in two six-pin connectors from your power supply if you didn't want to overclock. With the big GeForce models you have to connect an eight-pin block or the system won't start.
Zotac and the other Nvidia partners supply an adaptor in the package that connects to two six-pin plugs to give you the necessary eight pins, so that's a total of three six-pin connectors you require to get this graphics card running. In all probability, you'll be looking at a significant outlay for a new power supply on top of the startling amount of money most vendors want for the graphics card. Zotac is a new and relatively obscure brand in the UK, and pricing for the GTX 280 AMP!, regular GTX 280, GTX 260 AMP! and regular GTX 260 seems a touch steep.
The Zotac cards are straightforward reference designs so it makes sense to check out comparable models to get representative pricing, which starts at £215 for a GTX 260 and climbs to £320 for an overclocked GTX 260. The gap widens in GTX 280 land, where you can find, say, an Asus GTX 280 for around £330 and an overclocked version for £375. It's absurd to call a £330 graphics card 'cheap' but it's hard to see why you'd consider a GTX 260 when Asus charges just a £10 premium for the GTX 280.
Sponsored: Minds Mastering Machines - Call for papers now open