HTC Touch Diamond
The iPhone assault continues
Web navigation, and indeed text input in general, is helped by the latest HTC virtual Qwerty keyboard. The basic Windows keyboard is unusable with a finger, but HTC has managed to squeeze a fully fingerable Qwerty layout onto the Diamond's screen that works well even in portrait mode. The only slight hitch is that sometimes the keyboard springs up and covers the text box you're typing into. Whoops.
The Diamond's screen is fitted with an accelerometer, so flipping between portrait and landscape for video, photos and web browsing is simply a case of tipping the phone over a la iPhone.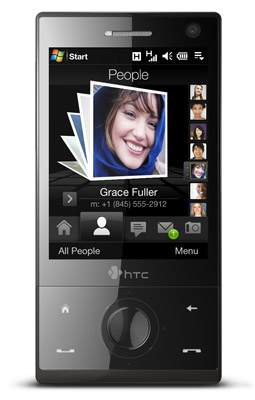 The only limitation of the UI is the lack of user personalisation
The 3.2-megapixel autofocus camera won't be winning any awards, but is a massive leap forward over HTC's usual photographic offerings, and compared to the iPhone's snapper is as Lewis Hamilton's McLaren to Jenson Button's Honda.
Out of the box, the Diamond will only support the usual suspect formats: MP3, WMA, AAC/AAC+, WAV, WMV and MPEG 4. But fork out $25 for Corecodec's Core Player Mobile – which plays pretty much anything under the sun - and you have a more than decent little PMP on your hands. In fact the Diamond's screen makes a top notch video player.
We copied across a 640 x 360, AVI rip of The Big Lebowski from the office Cowon A3 and were thoroughly impressed by the quality of playback. The video played smoothly, and looked bright and clear. The Diamond's music player also has a decent little graphic equaliser function. Of course, with only 4GB on board you'll be rather restricted in the amount of media you can store. This is where being able to stuff an 8GB memory card up the Diamond's backside would have made all the difference, but of course it lacks such a slot.
Being an HTC handset, you don't get a 3.5mm 'phones socket either. Apparently, O2 customers will get a bundled mini-USB 3.5mm adaptor so they can use any earphones they want and still retain hands-free operation. HTC should just bundle the adaptor at source and have done. For a couple of quid, they would be changing a major negative into a positive.