HTC Touch Diamond
The iPhone assault continues
Each of the other nine screens also has its graphic show-stoppers. The email screen shows the first few lines of each message sticking out of the top of an envelope - just gently swipe up to open the next envelope. You can also select which account you want to access from the main screen - we reckon there is space on the screen for four or five accounts. Swipe up on the browser screen and all your bookmarks are listed - just tap to launch the browser on that page. On the contacts page, you can put your most regularly called buddies into a Rolodex, while on the music page you can see your album cover art in 3D.
A Register Hardware Top Tip for navigation between the ten screens: don't swipe your finger from side to side across the screen, just press on the menu bar at the bottom and slide to the left or right. As you drag your thumb, the tab list scrolls so that all ten screen tabs can be accessed by simply dragging your thumb from one side of the screen to the other in one movement.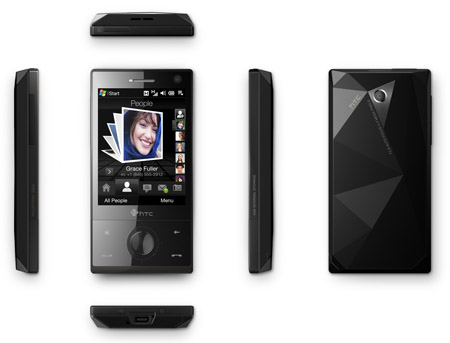 Being an HTC handset you don't get a 3.5mm phones jack
Not only is this easier and slicker than swiping from screen to screen, the 3D graphics move faster. If you don't believe us, try swiping away from the home page and then back, and then do the same thing using the menu tabs. When you return to the home page using the latter method, the clock sets itself faster and more smoothly.
Incidentally, incoming SMS messages simply show up in full on the messages home page - just swipe up and down to get the next one. And for those who take their texting really seriously, the Diamond displays texts as threaded chats.
When it comes to using the UI in each screen softly, softly is the name of the game, be too ham-fisted and things can go a little awry, as the unintended calls we ended up making to other members of staff while trying to get to grips with the Rolodex contacts screen can testify. Similarly clumsy navigation between the email 'envelopes' can sometimes take you into the message below rather than opening up the next envelope.
The only limitation of the UI is the utter lack of personalisation – it does what it does, how it does it. If you don't like it, tough tomatoes.