HTC Touch Diamond
The iPhone assault continues
The absence of a Micro SD slot is a bit odd for a GPS-equipped handset when so many navigation software packages come on memory cards and are sold under the premise of plug in and away you go. We have little doubt you could copy the data and applications across onto the Diamond to the same effect, but that's hardly the point. Some folk are just not that technically clued up, and besides, who wants to eat into their media storage with navigation software and maps?
With the Diamond, HTC has finally seen fit to move on from the rather lacklustre screens fitted to its other handsets. The 2.8in, 480 x 620, 65,536-colour job on the Diamond is bright, clear and easily readable in even the strongest sunlight, something you couldn't really say of the the screens on the other Touch family handsets.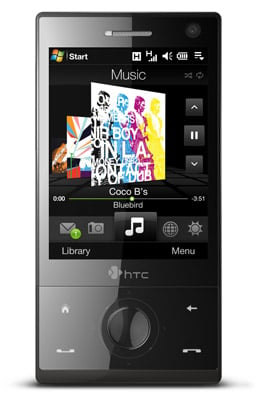 The 2.8in, 480 x 620 display is bright, clear and easily readable
When all is said and done, though, the Diamond is frankly less about what it does than how it does it. The big idea on this device is the TouchFlo 3D control interface, HTC's latest effort to keep its users beyond the clammy and odious grip of the underlying Windows Mobile UI.
It has done a pretty good job. What you have is a home page and nine other screens that swipe one to the next allowing you access to your contacts, texts, email, web browser, pictures and videos, music, the weather, settings and programs. Each screen shares a common background and comes with it's own rather funky graphics.
At the bottom of the screen sits a row of ten menu tabs, one for each screen though only five show at any one time. Below, sit two soft-menu buttons. Together, all these controls give you can access to most functions. The majority of subsidiary menus are rendered at a finger friendly scale so you have to drill pretty deep to come across those annoyingly small and fiddly Window's menus that require the stylus.
Though the home page's faux electric clock is a nice bit of design, it's the weather screen that is really TouchFlo 3D's poster child, with its clouds, rain and even a virtual windscreen wiper. Yes, the wiper's wholly pointless but we have yet to find anyone who wasn't at least slightly amused by it.