Samsung SP-A400B movie and business projector
The Wash & Go of the projector market
So despite its delicious good-looks, this projector seemed to us set to rely upon plenty of compromises. Two spring to mind immediately: business projectors are all about brightness and getting your point across. You want bold, bright graphics and clear text that's readable from the back of the room with all the lights on. That means lots of lumens, of which the SP-A400B has an entirely competent 2000.
Home cinema projectors don't need this much brightness. In fact, some would say too many lumens could be a disadvantage. With very high-brightness lamps, the supposedly black parts of the image tend to get brighter too - and in a darkened room you really don't need that much oomph to be able to see the picture clearly. This is why home cinema projectors of this size typically offer brightness closer to 1000 lumens than 2000.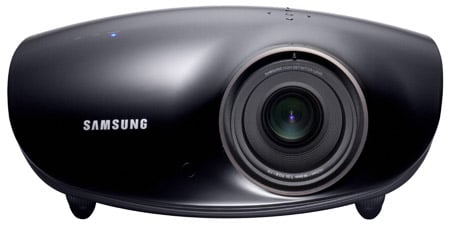 Compromised?
What you need for home cinema is a high contrast ratio. It's the difference between light and dark which gives the image its clarity and its depth. You want to be able to see every nuance of shadow detail, not a grey mess. The SP-A400B's contrast ratio of 2500:1 is really very good for a business projector, but pretty poor for home cinema where contrast ratios of 4000:1 up to 10,000:1 are commonplace. HD-ready projectors, like TVs, usually come in 1080p or 720p formats which have a 16:9 widescreen aspect ratio, but the SP-A400B uses a 1280 x 768 format, an aspect ratio of 15:9.
You may think that a screen shaped like this wouldn't 'fit' anything useful. If you're watching standard 16:9 format TV you'll be 'wasting' 24 pixels top and bottom. However, this resolution is crucial to the projector's hybrid credentials as it allows a standard 1024 x 768 PC screen to be displayed without having to squash it into a display 720 pixels high, which would seriously impair image quality.
Most decent home cinema projectors are physically pretty big. That's not just to help you boast, it's to help keep them quiet: loud, whirring fans are distracting and can ruin the intimacy of a delicate bedroom moment, be it on-screen or otherwise. A bigger case lets you force larger volumes of cooling air to pass through the projector without making a lot of noise.
Sponsored: Minds Mastering Machines - Call for papers now open