Wii racers get a wheel deal
Stiffen your in-game kart control
Mario Kart is a great Wii game, but because the driving wheel doesn't have a fixed position, kart control can be tricky. Thankfully, an ingenious Wii Wheel Stand has been…ahem… invented.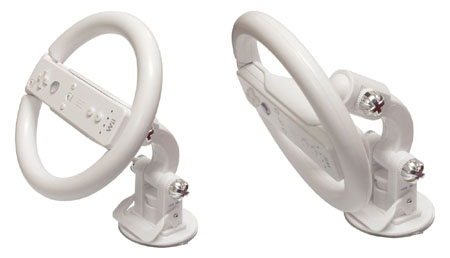 The Wii Wheel Stand lets you fix your driving position
The stand simply clips onto the back of the Wii Wheel, around the section where the Remote slots into. A suction-cup on the bottom of the stand then allows you to fix the wheel onto a hard surface, like a tabletop, to give you a better quality of control.
The stand rotates vertically by up to 120°, but it doesn't appear as though the stand allows the height of the wheel to be adjusted.
For now the Wii Wheel Stand is only available in Japan, where it costs around ¥3000 (£14/€18/$28). But, we'll let you know when a UK price and availability date parks up.
COMMENTS
flawed
... the Wii wheel is (or maybe I'm just crap with it) ... either way, I'll be sticking with the Nunchuk configuration.
hmmm...
a £15 white plastic stand with clips and a suction cup....
methinks that before the first corner I will be waving the wheel about in the air in much the same manor than without the stand, but now with added sharp shards of plastic poking out the back of the thing! :)