Solar power gets curtains twitching
Use your curtains to generate eco-power, says boffin
Given that curtains help us block light out, it seems sensible to use one side to suck up the sun's rays. So a textiles boffin has developed "smart" drapes with integrated solar panels.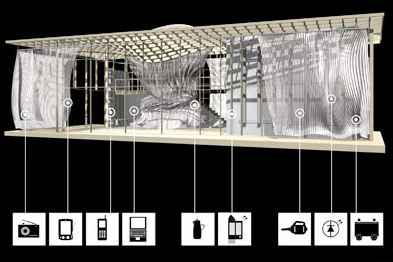 Gadget-powering curtains
Sheila Kennedy, a professor at the Massachusetts Institute of Technology, has begun developing a thin-film photovoltaic fabric. Essentially, this material looks and behaves like cloth, but also works as a solar panel when exposed to light.
Power collected by the panels is stored in rechargeable battery packs sewn into the curtains' hems. The charge can then be moved into a larger battery, which acts as a central power source for individual homes.
Kennedy believes that so-called "solar textiles" could help people revolutionise the way electricity is generated and used. She also reckons that the photovoltaic 'cells' could be produced like rolls of newspaper – making cheap mass-production possible.
However, she admitted that the panels are less efficient than traditional glass-based solar panels.
As part of a research project into solar textiles, Kennedy has already developed a prototype solar-powered dwelling called Soft House. The home's solar sucking curtains track the sun and generate up to 16,000Wh of electricity, which she claims is more than half the daily power requirement of an average American household.
Sponsored: Minds Mastering Machines - Call for papers now open