TVonics MFR-300 micro digital TV set-top box
Bringing digital to Scart-free tellies
The picture wasn't a patch on the one coming out of our Scart-connected DVR, and we even found it slightly inferior to a good analogue broadcast. Comparing BBC One in analogue and on digital through the MFR-300, the colours were better in the former, the digibox delivering a slightly paler picture. All three were fed from the same, signal-boosted loft-installed aerial.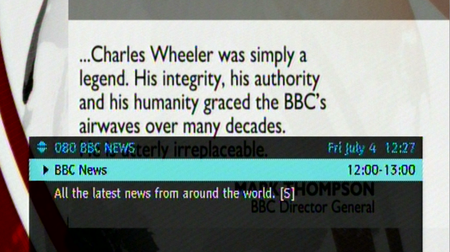 UI text comes up a little fuzzy
The MFR-300's output is by no means unwatchable, and on a TV smaller than our 28in CRT you'd probably not notice the slight fuzziness.
Audio Description works well, though there's really too few programmes being broadcast that offer the service.
Incidentally, we should mention that TVonics also offers the MFR-200, which is £20 cheaper and lacks the bundled IR extender and the AD support. It also comes with a slimline remote. Neither version ships with an AV cable, but they both have a socket on the front to connect one. Alas, it's a 2.5mm socket rather than the standard 3.5mm.

Analogue (left) vs MFR-300: paler colours on the Tvonics
Even in its cheaper form, the TVonics box costs £40, which is a lot for a set-top box these days. And until the last analogue station is turned off, you may still need to soup-up your aerial with a signal booster or antenna upgrade to get a decent Freeview signal. Depending on where you live, your old set-top aerial may not cut it.
Verdict
The MFR-300 offers all you could want from a Freeview set-top box but in a very compact unit that's ready to work with any analogue telly that lacks a Scart socket. It's ease of use, range of features and space-saving qualities are tip-top - only the picture quality lets it down. But if you're looking for a good way to bring digital to an old TV, it's hard to beat.

TVonics MFR-300 micro digital TV set-top box
Compact yet fully-featured, here's a handy digital TV tuner for your old, Scart-less telly.
Price:
£50 (MFR-300) £40 (MFR-200) RRP