TVonics MFR-300 micro digital TV set-top box
Bringing digital to Scart-free tellies
There's the customary eight-day Electronic Programme Guide, which is clearly presented, though it's not immediately clear how you move ahead a day: click the blue button, signposted on the screen by a thin blue line and '+24'. Why not a big blue button-like graphic with 'Next Day' written in it, folks?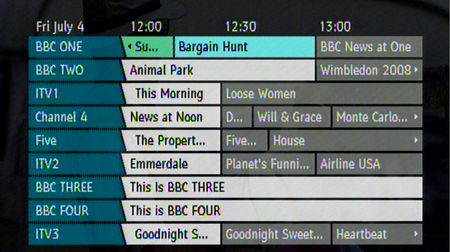 Full eight-day programme guide
The MFR-300 separates out TV and radio channels, maintaining them in two separate lists you can flip between using a button on the remote. The gadget doesn't let you create a list of favourite channels, but you can "hide" channels you don't want, which amounts to the same thing. Hidden channels don't appear when you cycle through the channels and they don't show up in the EPG.
Any or all of the channels can be PIN-locked to prevent junior getting an eyeful of Television X, if he's allowed to stay up that late.
Freeview's interactive content works well, but as there seems to be with so many digital TV boxes, there are quirks. Go to the BBC's News Multiscreen page, for instance, and change the volume - the picture vanishes for a moment.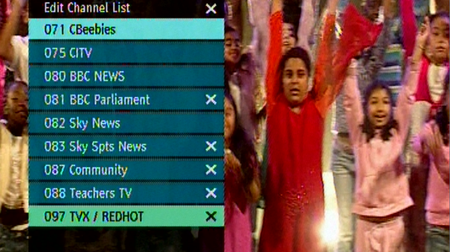 'Hide' the channels you don't want to appear
So, no complaints about the box's functionality. The picture it puts out is another matter. Now of course running the signal through the aerial socket's not going to give as good a picture as running it through the Scart will, but even so we expected a better picture than we actually got. We saw a slight fuzziness to the picture, particularly on on-screen text.