Logitech Pure Fi Anywhere iPod speakers
If this were a school report, it would read "must try harder"
Review An almost infinite number of iPod speaker sets are now available, but one manufacturer that's kept up a consistent quality with its music-player peripherals is Logitech.
Measuring 335 x 90 x 40mm, and weighing 726g, these are not the most portable of portable speakers. They're too big to fall under the go-anywhere travel-speaker category - the Creative TravelSound speakers are a better example of truly transportable tunes.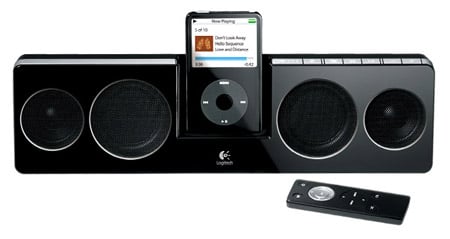 Logitech's Pure Fi Anywhere: iPod not included
Despite taking up a little more space in your suitcase than is perhaps necessary, they do come in a nice, reinforced travel case to protect against bumps and bruises caused by reckless baggage handlers.
The glossy black finish looks nice, and Logitech has adopted a minimalist approach to the set's appearance. The front features the speakers and nothing else. The buttons are positioned towards the top right-hand side and include power, controls for shuffle and repeat, and a Stereo XL mode. There's also a battery-level gauge with three little LEDs indicating just how much tune time you have left.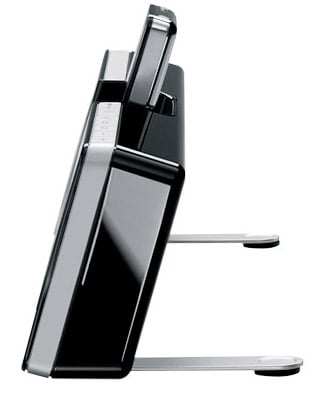 The little fold-out feet work well and keep the speakers stable
We blasted out bass-heavy tracks like Been Caught Stealing by Jane's Addiction and Saint Etienne's Filthy and, truth be told, the performance was passable but nothing more. With the volume up full, less thunderous tracks like I Just Want To Celebrate by Rare Earth fared better, but we've heard better from smaller and less expensive offerings. The Stereo XL mode makes things a little better, but not all that much.
The little remote control is kind of cute. It looks a little like the one you used to get free when you fork out (too much) for an Apple laptop. All the same functions are covered and it's extremely easy to master, and works with the various iPods and iPhones we tried.
The Pure Fi Anywhere iPod speakers support all iPod models with a dock connector, but other portable music players are catered for too, thanks to a 3.5mm auxiliary input. This is also useful for hooking a laptop should you feel the need to play tunes this way instead. We found however, if left not doing anything for a while they have a tendency to switch themselves off. Great if you're thinking green, frustrating if you forget and wonder why you can't hear any music.
Verdict
A disappointing product from Logitech. We hoped for much better sound quality. Certainly they look lovely, but if you're serious about broadcasting bass, these bad boys aren't for you.
COMMENTS
Pure Fi review is Pure BS
I upgraded to Pure Fi from Logitech's earlier speaker, a model that had already earned accolades on several iPod sites. The Pure Fi improves on the original in every respect. It's louder; the bass is a bit stronger; for slim traveling, the AC power adapter can now be stored in the iPod slot (neat!); and it's beautiful, especially in black.
I agree, though, that the Pure Fi turns itself off or goes into sleep mode after too short an interval. It needs a good 5+ seconds to wake up.
I don't even own an iPod, yet I use my Pure Fi at work. When I go to a presentation, I take it with me, together with a mini-to-mini cord. If the presenter's laptop can't connect properly to the loudspeaker, I plug in the Logitech and become the hero. I also use it when running a booth at conferences.
One of my clients at work liked mine so much, she ordered one, too.
Which better and less expensive ones??
´With the volume up full, less thunderous tracks like I Just Want To Celebrate by Rare Earth fared better, but we've heard better from smaller and less expensive offerings. The Stereo XL mode makes things a little better, but not all that much.´
I´m interested in some of those, could you recommend some better-performing and cheaper ones ? Thanks