Sony touts weird multi-sensor handheld gadget tech
Invented by former PlayStation chief
A Sony patent application has revealed the firm's possible plans for a handheld gadget, featuring a standard touchscreen and a bizarre array of individual 'pressure pads' running around its edge.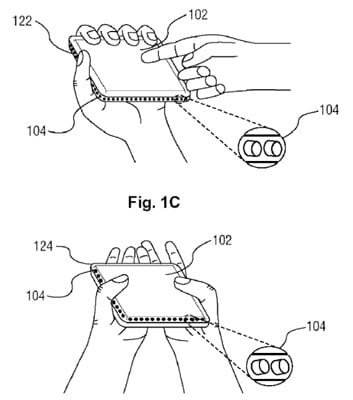 Sony's patent drawing of a "handheld device with touchscreen and digital tactile pixels"
The electronics giant's application to the US Patent and Trademark Office details a "handheld device with touchscreen and digital tactile pixels". The device's functions are somewhat hazy, but the patent suggests that individual 'tactile pixels' - pressure points, essentially - could serve as an alternative control mechanism to the main touchscreen.
The patent application states that potential uses for the invention could include everything from a game device to phones, portable media players and email gadgets.
But how could an array of "digital tactile pixels" positioned around the edge of a palm-sized touchscreen work? Well, if the invention were used as a phone, then it's possible that several digital pixels could be put on either side of the main touchscreen and be used as menu shortcuts. A line of sensors could trigger number-key presses.
Alternatively, if used on a games device, then perhaps the pixels could serve as a way of better controlling on-screen action.
The application makes no specific reference to the PlayStation Portable, so don't get your hopes up about a next-generation PSP. But, to keep the hope alive, it's worth noting that Phil Harrison is listed as the inventor of the Sony gadget.
Until late February, Harrison was the president of Sony Computer Entertainment Worldwide Studios and has been credited as a founding member of Sony Computer Entertainment and played a key role in the development and growth of the PlayStation business.
Sony also mentions vibration in the patent, which could hint at rumble gaming, vibrating alerts for incoming calls or text messages, and haptic feedback for text input - although such uses are not discussed in the patent application itself.
Sponsored: Minds Mastering Machines - Call for papers now open