Pioneer launches LCD TV line under Kuro plasma brand
The blackest blacks of an LCD
Pioneer has launched a three-strong line of Kuro LCD TVs, which it claims deliver a picture that closely matches the "visual experience" a plasma telly can produce.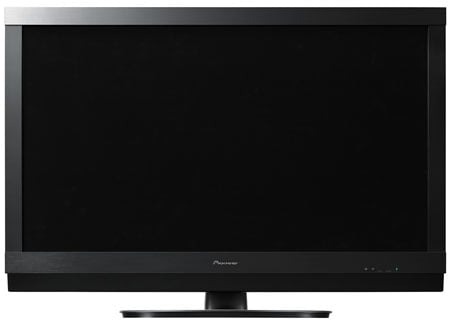 Pioneer's Kuro: now LCD too
Until now, the Kuro range has been exclusively plasma-based and sold mainly on the claim that Kuro – which is Japanese for 'black' – screens provide "industry-leading" black levels. Of course, Pioneer claims the same of the new Kuro LCD range, but the firm's obviously hoping to snap up a piece of the already crowded LCD market by expanding the Kuro brand into this more popular market.
Pioneer's Kuro LCD range comprises 32in, 37in and 46in screens, with all three models sporting 1080p resolution and a 100Hz refresh rate. Three HDMI ports accompany each model, which should provide enough connections for your Blu-ray Disc player and whatever other HD gadgets you've already splashed out for.
Although slightly bland-looking, the TVs feature brushed aluminium cases and black swivel stands with 15° of horizontal rotational movement, helping you to make the most of the 176° viewing angle available on each screen.
Pioneer hasn't released any prices yet, but has said that the 32in and 37in models will be available in August. The 46in screen won't come onto the market until sometime later this year.
COMMENTS
*blinkered views*
Jeez guys... rather than sitting there with the blinkered view try going and having a look.... try the Samsung LE52F96BD LCD that rather than having one single back light uses varying luminescence in clusters and offers a black level of 0, i.e. perfect - something that Plasma will *never* be able to compete with. The Samsung may not be perfect but it's a great indicator of where things are going.
Plasma has a lot of plus points, but also has plenty of drawbacks (try watching your Plasma TV in a brightly lit room... you'll miss quite a lot!).... many are realising that the future lies with LCD as more technology is being poured into it.
Pioneer have realised (just like Fujitsu) that Plasma will disappear so they may aswell get on the LCD bandwagon ASAP.
Plasma isn't better.... it is more suitable in some scenarios, just as LCD is more suitable in others.
LCD? YUK..
Only for people that can't afford Plasma, but are able to convince themselves they look as good...
black levels?
Until now Kuro were plasma displays, simply because of deep black levels (or extremely low luminance) plasma can achieve, which also means high contrast. These simply cannot be achieved in LCD, unless some new technology was employed. One has to wonder what it is, or had Pioneer simply lowered their standards.