Retailer punts MacBook Air-friendly solar charger
No cables required
If you've splashed out on a MacBook Air then the chances are that you're either pretty rich, or now stony broke. Either way, a solar panel charger's now available to help you cut electricity bills and do the Earth some good.
Retailer QuickerTek states that its Apple Juicz solar panel allows users to simultaneously charge and use the MacBook Air, with the only power source required being a good burst of sunlight.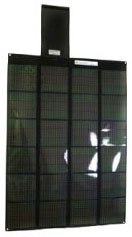 Apple Juicz: a solar sucker for your Air
Three models of Apple Juicz are available: a 19W model that charges the laptop in 14 hours, a 29W panel that powers-up in eight hours and a deluxe 58W option for even shorter, five-hour charges.
The downside is, of course, that the greater the solar sucking power, the larger the surface area. For example, the 19W model measures around 30 x 30in, while the 58W model is 60 x 42in. Each panel folds up to make it more portable, though.
All three panels are available now online, priced between $500 and $1000 (£500/€640). You'll also need a special power adaptor too, but QuickerTek will either modify your existing Apple one for $25 or sell you a new one for $100 (£50/€75).
Sponsored: Minds Mastering Machines - Call for papers now open