Snazzy camcorder promises YouTube fame
Shoot HD video for online video blogs
Manufacturer DXG has launched a colourful selection of camcorders, all sporting HD-resolution recording and the ability to upload all your best footage directly onto video-sharing websites.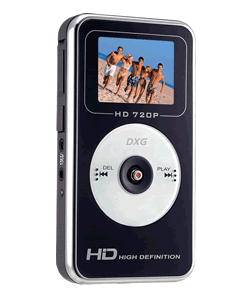 DXG's 567V: upload videos directly to YouTube
The DXG-567V camcorder is definitely handy, because DXG describes the unit as being "not much bigger than an average mobile phone". But you'll certainly get a better resolution than on most mobiles, because the 567V shoots 1280 x 720 video at 30 frames per second.
Bundled with the camcorder is Rapid Blog Manager, a software package that allows you to almost instantly upload videos onto sites such as YouTube by connecting the camera's retractable USB connector into your PC.
DXG offers the 567V in four snazzy colours: black, red, pink and "sky blue". The shooter's available now in the US for $180 (£90/€130), but a UK release date hasn't been captured yet.
COMMENTS
Instant Uploads...
...*If* you happen to have your PC with you.
Or perhaps you run on blog called "Inside my SOHO"??
Make it wireless and give it a bigger screen add easy, intuative access to the innertoobes, may as well add the ability to play music too...oh, and a phone...
I digress