The gold standard in data storage?
The disc that lasts for 200 years
A lot of things can happen in 200 years, but one thing data storage disc manufacturer Delkin Devices guarantees won't occur is data loss. That's because the firm's launched a Blu-ray Disc reputedly capable of retaining content for two centuries.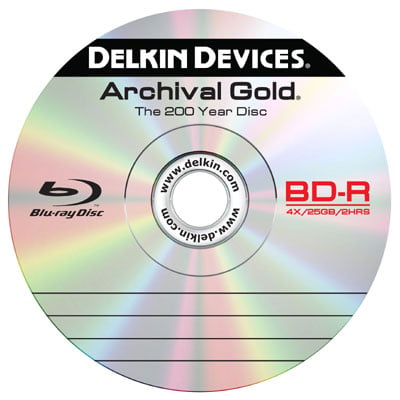 Delkin's Archival Gold BD-R: lasts for 200 years
The Archival Gold BD Recordable media is, according to Delkin, the first such disc "guaranteed to preserve data safely for over 200 years".
The firm's not giving much away about how it makes each 25GB disc so durable. But, Delkin does state that its patented "phase-change" recording materials allow the discs to withstand the effects of UV light, heat and humidity. Presumably such extremes would cause 'standard' Blu-ray Discs to perish within the next 200 years.
Delkin also claims that the 4x write-speed discs have a scratch-proof coating that'll protect each one over fifty times better then typical coatings found on other optical discs.
Given the price, these discs aren't just for anyone worried about losing their pr0n collection though, because a pack of ten will set you back a whopping $250 (£125/€155).
Sponsored: Minds Mastering Machines - Call for papers now open