Legal, British P2P 'by end of year'
ISP-music talks get serious
For the music business, the attraction is best explained by the following slide. Music has never been so popular, but the share of the British consumer's income that goes on paid-for recorded has been in long-term and accelerating decline.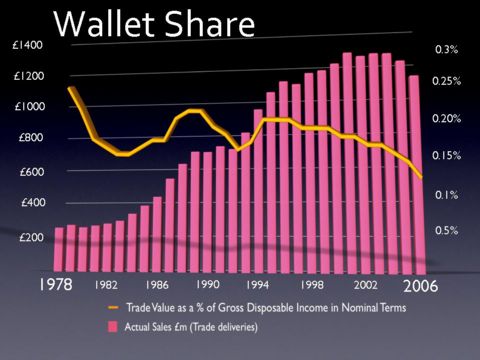 Music revenues vs "wallet share" [click to enlarge]
The CD has been on the market for 26 years, and there are no new physical formats on the horizon. The digital download business is worth over $2bn, but is dwarfed by the number of unlicensed exchanges for which labels, publishers and creators see no revenue at all.
80 per cent of P2P users recently surveyed by the University of Hertfordshire for British Music Rights said they'd consider signing up to a legal file sharing service.
And for both networks and music companies, music services that for the first time match consumers' online activity may end the eternal arms race between enforcement and unlicensed music outlets.
Risks and rewards
There are risks for the respective industries, too. The music business fears two in particular: pricing and "substitution".
The original fear of losing the ability to set a price for music has been largely superseded by concerns about setting the price of the licenses too low. Once fixed, this would be hard to raise.
This is related to a wider concern about the substitution effect: to what extent subscribers, once given "unlimited" access to music, would cease to buy CDs. Since a subscription covers a household, the substitution effect could be significant in some cases. Nevertheless, even pessimistic modeling suggests revenue would be higher than it is today, if not as much as some hope.
Inside the business, which covers a variety of different competing interests, concerns vary. While independents fear being excluded by the big four, major labels fret that their market share wouldn't be reflected in the usage patterns. To date, licensed digital downloads tend to magnify their dominant share: at iTunes, the "head" has grown at the expense of the "long tail". Publishers, songwriters and composers are anxious that their contribution is both adequately reflected in music service revenues, and fairly collected. In the physical world, the recording copyright takes the lion's share of rights revenue.
Blanket relief
At the very least, the negotiations currently underway break new ground for both music and network businesses. A voluntary agreement leaves the idea of a compulsory "blanket" access to music charge, levied on all UK broadband subscribers, all but dead. If it was ever seriously alive. ®