Hyperic tells Amazon's cloud to turn its head, cough
New CloudStatus site monitors the ...cloud ...status...
Open source systems management specialist Hyperic is sticking its inquisitive probe into Amazon.com's cloud.
The firm this week launched cloudstatus.com, a website that monitors and reports the status of Amazon's web services.
It currently provides a non-customer specific view of Amazon's Elastic Compute Cloud (EC2), Simple Storage Service (S3), SimpleDB (SDB), Simple Queue Service (SQS) and Flexible Payment Service (FPS). Hyperic says it plans to add insight into additional cloud service providers in the future.
The trackers appear green when indicating a "healthy" performance; yellow for service issues; and red when things go pear-shaped. Performance history is also tracked in a seven day span for each individual service.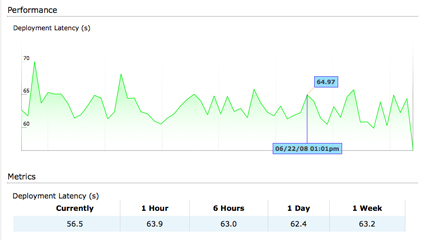 Hyperic says it obtains the results by running agents distributed across all of Amazon's Web Services availability zones and regions. The agents execute transactions using key operations of each service and report back the latency.
That should provide an overall perspective of the services — although individual customers could theoretically be getting very different results from Amazon's services. Hyperic says it will address this in the coming months by offering personalized feeds for a cost, as opposed to the current service which comes gratis.
Other improvements will include more detailed measurements and integration with existing Hyperic HQ monitoring installations.
CloudStatus itself is a hosted service built and operated by Hyperic. So if it goes down, the status should be indicated by handy 404 error. ®
Sponsored: Minds Mastering Machines - Call for papers now open