Eco-activist gets tougher with gadget makers
Greenpeace shifts green goalposts
Sony and Sony Ericsson (SE) may have topped Greenpeace's latest Guide to Greener Electronics, but almost all manufacturers saw their scores plunge thanks to new, more stringent marking criteria.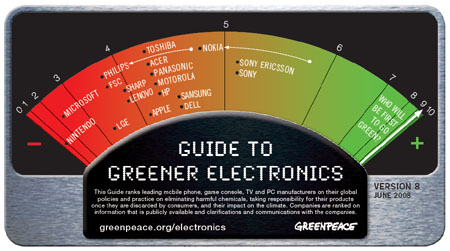 Greenpeace's Guide to Greener Electronics: how the vendors rated
Greenpeace said that "given the increasing evidence of climate change", it was now necessary to make the grading system tougher and to create additional grading criteria. For example, it added more toxic compounds to its list of materials manufacturers must commit themselves to eliminate and provide a timeline for that process. Chemicals added to the roster of nasties include beryllium in all its forms and compounds of antimony.
The environmentalist merged timeline requirements for firms' commitments to eliminating PVC and BFR chemicals from products, but extended the elimination of phthalates to take in all incarnations of the compound.
Sony and SE may have been awarded the joint top rank, each netting a score of 5.1 out of ten, but Greenpeace felt that all 18 companies it scrutinised still need clean-up their products by eliminating all hazardous substances.
Greenpeace's second key demand is for all firms to improve their product take-back and recycling strategies.
In the latest rankings, Nokia would have taken first place with a score of 5.8, but Greenpeace again penalised the mobile phone giant for "corporate misbehaviour on its take-back and recycling practice". Nokia consequently had to settle for a score of 4.8.
In version seven of the report, released back in March, Greenpeace also slapped a penalty onto Nokia because of deficiencies in its recycling programme.
This time around, Samsung and Dell, were awarded identical scores of 4.5. Both firms scored well for over their timelines for phasing out use of PVC and BFRs. Samsung was also congratulated for its use of recycled plastic content.
But both firms took a spanking over the amount of renewable energy they use - or, rather, the lack of.
Toshiba, Acer, Panasonic, Motorola and HP all scored 4.3. Toshiba and Acer were both noted on their good timelines for the phase-out of PVC and BFR use, something at which Greenpeace said Panasonic is "partially bad". Motorola was noted for the efficiency of new models because, globally, all its mobile phone chargers now meet Energy Star Level 4 requirements.
And now for the negatives. Toshiba, it seems, doesn't use a high enough amount of renewable energy and doesn't have a commitment to increase use of renewable energy sources. Motorola received a ticking-off because, although it has goals to increase the use of recycled materials in products, no examples or quantities were supplied to Greenpeace.
Apple, which in the previous report scored of 6.7, has since seen its score drop to 4.1. Greenpeace admitted that the firm's timeline for PVC and BFR phase-out is positive, but slapped the iPhone maker on the wrist for failing to provide a timeline over which it'll withdraw use of other Earth-damaging chemicals, such as beryllium.
Greenpeace also hit-out at Apple over its use of recycled plastic content, it's somewhat sketchy information about plans for the reduction of its carbon footprint, and failure to provide any information about the amount of renewable energy it uses, if any.
Version eight of the report is still bad news for Microsoft and Nintendo, with the Wii maker again coming in last position. Microsoft also received some damning environmental criticism.
Microsoft scored just 2.2 "miserable" points and is heavily criticised for just about everything, ranging from the amount of recycling it does to the efficiency of its new models. The firm doesn't even have any products free of PVC and BFRs.
Nintendo was awarded a "pitiful" 0.8 points because, although it's in the process of phasing out PVC use from packaging, timelines aren't given for, say, withdrawal of PVC and BFRs from products. Oh well, at least the company's executives have Wii Sports to take their frustrations out on…
Sponsored: Minds Mastering Machines - Call for papers now open