Intel Atom 230 ultra low-power desktop CPU
Build your own Eee
The GMA 950 graphics have a single VGA output so anyone with plans to connect a digital TFT is scuppered, and to add to the pain two of the four USB ports are so close to the VGA output that they are effectively useless.
There's a header on the board that supports two case-mounted USB ports so you can save the day but it looks like someone at Intel was having a bad day when they came up with this design.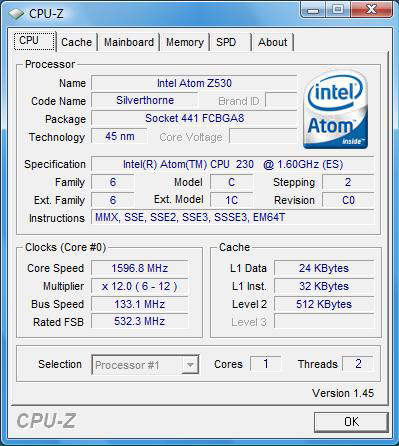 The Atom 230's CPU-Z read-out
The Realtek network connection is 10/100Mb/s instead of Gigabit, and the Realtek ALC662 audio is as rudimentary as you'll find on a motherboard these days.
It's worth repeating that your options for expansion are just about zero, so what you see is what you get.
Intel supports D945GCLF with a minimal selection of operating systems. According to the chip maker, you're limited to a choice of Windows XP, x64 XP and 32-bit Vista. That said, we're sure Linux fans could probably rustle up a suitable distro, thanks to Asus' work on the Eee PC.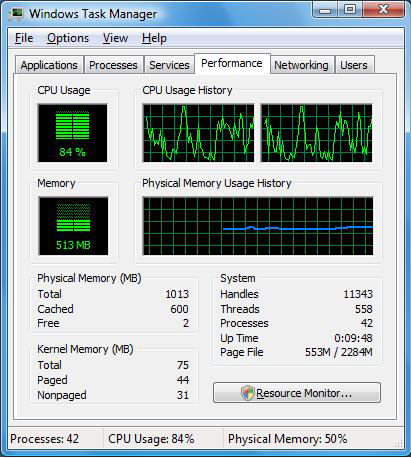 Yes, it HyperThreads
We plumped for 32-bit Vista Ultimate and found that it ran well enough, but as you might expect a single-cored 1.6GHz processor has to work hard even if it does have HyperThreading and displays two cores in Task Manager. We saw that Vista kept the Atom churning away at 10-25 per cent usage simply running the desktop and as you'll see from our benchmark tests the performance is truly pathetic.
Stick to XP, then, if Windows is your thing.