Orange launches dance-powered phone charger
Kinetic charger to launch at Glastonbury
If you love music festivals, but can't bear the thought of your mobile phone running out of juice, Orange has the answer. The network operator's designed a phone charger powered by your ability to do The Monkey, The Robot and The Worm.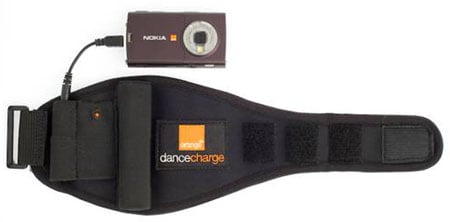 Orange's Dance Charge is powered by kinetic energy
The Orange Dance Charge is a portable phone charger powered through the kinetic movement of a system of weighs and magnets, which move as you groove. The system's contained within a jogger-style MP3 arm strap, which also contains a storage battery for holding all the dance-generated energy.
When your mobile phone runs out of power, you only have to connect the storage battery up to your mobile phone before you've got enough juice to continue snapping blurry pictures of on-stage bands, or texting your mates that Trent Reznor's sweat just landed on your face.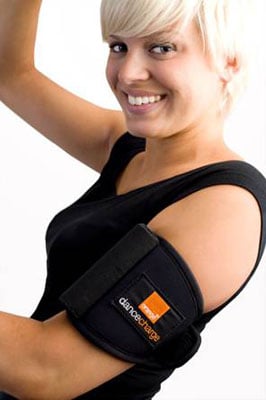 In single-minded pursuit of the groove...
But, if you're not a confident salsa swinger or disco diva, then Orange has also lined-up the Dance Charging Man – an interactive dancer that'll generate power for you with his own dance skills.
So far, Orange has only developed a limited number of functioning prototype Dance Charge models, which it'll be dolling out to a test-bed of dancers at this year's Annual Mud Gathering, also known as Glastonbury.
Earlier this month, Orange also unveiled a mobile phone charging tent for Glastonbury, which has a large wind turbine and solar panels atop its canvas roof to generate power for up to 100 phones.
COMMENTS
Useful
It could put this on one arm and charge it while I use my hand on the other arm to send all those kinky texts that'll soon be illegal.
Needs cuter bird
I spent ages trying to figure out how to say this diplomatically, but couldn't. She's cute, (like the hair), but I want a raver / hippy type chick if I'm to take this product seriously. You lots can keep the eee girl(s), let's have some raver chicks. And a couple of raver blokes to keep the ladies happy...
IT angle cos there isn't one in this case!
@wonderkid
thanks for that my brain just went had to restart when i imagined this built into the thong with a phone holder in it.
oh well back to work
@ Wonderkid & his Power Pants
Hmm, sounds exciting! What sort of, ahem, "discharge" would be released if I was wearing my Power Pants for a long while without powering anything?
I'm thinking a built-in vibra-unit would be a step in the right direction.
The future's bright. The future's Orgasmic.
Paris, because she would happily demo Paris' Power Pants during her workout.
Combined with mobile video
We'll have all the kinetic energy we need.
Paris, providing kinetic energy for the masses