Logitech Squeezebox Duet multi-room music streamer
Slim Devices' winner revamp
The Duet has a few more strings to it's bow than straightforward media streaming from a hard drive. To start with, it will also stream internet radio stations - we were pleased to see El Reg's perennial fave, Radio Paradise, already loaded along with dozens of others. The Duet will also buddy up with the likes of Rhapsody, MP3tunes' Music Locker and Live Music Archive services. All of which means you can have tunes even when your computer is switched off.
The receiver also has an Ethernet port, so it can be used it as a wireless bridge - which could come in handy for PS3 or Xbox owners and the like - or it can be linked directly to your router if you live in a wireless-unfriendly dwelling.
Expanding your Duet network is straightforward: just hand over £99 a pop for one, two or three more receivers, and you can have the same music in lots of rooms or different music in them all at the same time. You can buy extra controllers too.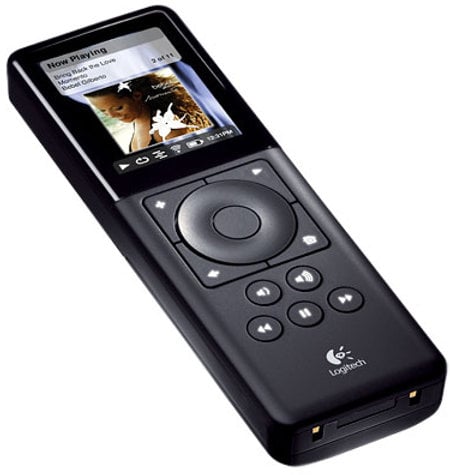 Chunky but fully featured
Downsides? Well, the battery life of the controller left a bit to be desired. We soon got into the habit of leaving our Duet running most of the day every day and found we needed to give the controller a few hours in the cradle every other day, at least. The controller also tended a get a little on the hot side when re-charging so leaving it in the cradle permanently wasn't something we were wholly comfortable with.
On a couple of occasions, always when playing from playlists set up on iTunes, the controller display would stick on a certain Now Playing screen even though the system had moved on to the next track. Other than these fairly minor issues, we've nothing else negative to report.
Verdict
A media streamer with absolutely no glaring deficiencies is a rarer thing than you'd think, but Logitech has come up with one. Set up is painless once you have the right set of instructions, even for the technophobic. In use, the Duet is a joy: simple, intuitive, reliable and very well made. At 270 notes, it's not cheap – though it compares well with kit from the likes of Sonos, and is worth every penny if you ask us.
Sponsored: Minds Mastering Machines - Call for papers now open

Logitech Squeezebox Duet multi-room music streamer
A quality product that does exactly what it says in the box. Simple to set up, easy to use, it delivers great sound quality.
Price:
£279/$400 (receiver and controller) £99/$150 (receiver) £199/$300 (controller) RRP