Logitech Squeezebox Duet multi-room music streamer
Slim Devices' winner revamp
The SqueezeCentre software makes a very good job of importing media libraries. With a few clicks, we ended up with a near perfect recreation of our 7000-song iTunes music library on the Duet, complete with all our playlists. Album artwork import was a touch hit and miss, but no worse than we really expected. If for any reason you don't like the way SqueezeCentre does its thing with your media library there are a fair number of options that allow you set things up just so.

All the network and audio connections you could want
Every time you fire up SqueezeCentre it takes a quick shoofty in your pre-defined music folders and loads anything new into its library. All this takes place discreetly in the background, so as far the user is concerned the Duet's library is always bang up to date.
When it comes to playback quality, the bit rate and type of the files in your library, and the quality of the stereo, will have far more of an impact than anything the Duet does.
Stuffing 160Kb/s MP3 files in at one end and playing back through a pretty workaday LG 5.1-channel home cinema system isn't going to blow you out of your seat, though when we did exactly that we were pleasantly surprised by the quality of the sound. The fact, the receiver has built in amplification which helps things along no end. And no matter how we rigged the Duet up we never found ourselves wanting in the volume stakes.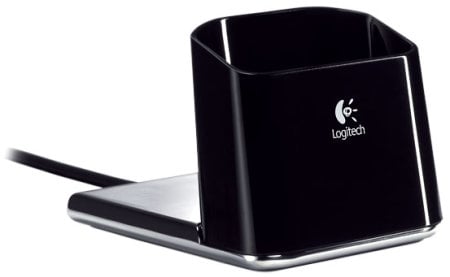 You'll need the controller's charging cradle frequently
File support isn't half bad, with the Duet supporting MP3, AAC, WMA, Ogg Vorbis, Flac, Apple and WMA compressed, and WAV, PCM and AIFF uncompressed music files. Of course, songs need to be non-DRM. If your music library is full of stuff you bought from iTunes rather than stuff you just store using iTunes, you'll be in for a bit of a disappointment.
Sponsored: Minds Mastering Machines - Call for papers now open