AMD CPU shoot-out: Phenom X3 and X4
Intel killers?
The test results show that both the Phenom 9500 and 9600 were disappointments. Graphics performance in PCMark05 was poor, although it was OK in 3DMark Vantage, and the frame rate in Crysis was very low, crawling along at 14-15f/s. This was something of a surprise and we jumped back and forth between B2 and B3 CPUs a few times and the results were consistent.
PCMark05 Results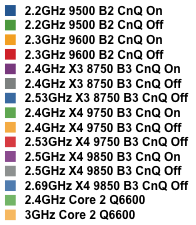 Longer bars are better
Neither the 9500 nor the 9600 would return a memory latency figure in SiSoft Sandra and neither overclocked by more than the tiniest margin.