AMD CPU shoot-out: Phenom X3 and X4
Intel killers?
The flip-side is that AMD doesn't have a cheap dual-core Phenom to compete with Core 2 Duo, which is undoubtedly the reason for the introduction for the tri-core X3.
On paper, Phenom has significant advantages if you want to make your multi-core processor highly efficient and especially if you want to gang up a number of multi-core CPUs in a workstation or server.
Testing Phenom presented us with a dilemma as the natural partner is the AMD 790FX chipset, which supports the quad-core processor with up to four GPUs in CrossFireX mode. We get the impression that gamers aren't the least bit fussed about CrossFireX, and decided that it made more sense to focus on the budget nature of Phenom by testing with an Asus M3A-H motherboard with AMD 780G integrated graphics.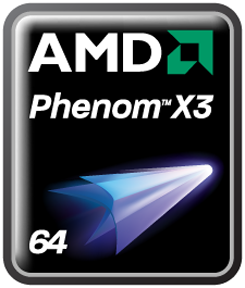 The memory controller in Phenom supports 1066MHz DDR 2 memory so we used 2GB of Corsair Dominator CM2X1024-9136C5D that runs at speeds up to 1142MHz. The Asus' Bios gives a choice of enabling or disabling the TLB fix in the B3 Phenom but we left the fix enabled throughout our testing.
AMD makes quite a feature of its Cool'n'Quiet power-saving technology, which certainly has some benefits. However, it requires you to leave the voltage settings locked to automatic. This makes the prospect of overclocking distinctly unlikely so we did an initial set of test runs on each CPU with Cool'n'Quiet enabled and a second run with the technology turned off. After that, we tried to overclock each Phenom by raising the 200MHz reference clock as far as it would go which, to be frank, wasn't very far but we'll come to that shortly.
Sponsored: Minds Mastering Machines - Call for papers now open