AMD CPU shoot-out: Phenom X3 and X4
Intel killers?
Review The birth of AMD's quad-core Phenom processor was plagued with problems. After a gestation period more akin to an elephant than a CPU, the new silicon popped out puking and bawling but was clearly a bit of a runt.
The problem was the now-infamous TLB error that crippled performance and reduced clock speed with the result that the B2 stepping of Phenom was only available in two models.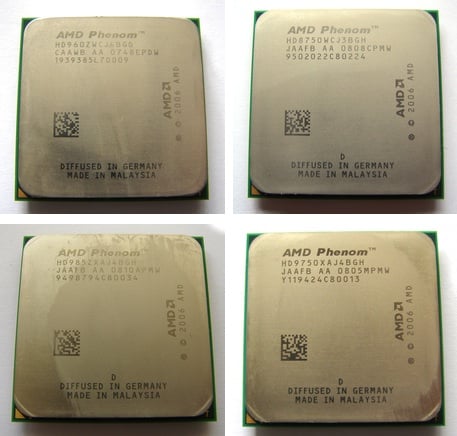 AMD's Phenoms: (clockwise from top left) 9600, X3 8750, X4 9750, X4 9850
Neither the 2.2GHz Phenom 9500 nor the 2.3GHz 9600 delivered enough performance to trouble Intel's Core 2 Quad Q6600, which was a direct competitor at the same price. As an added kick in the teeth, Phenom would barely overclock while the Intel processor could manage a clock speed of 3GHz without breaking a sweat.
AMD fixed the TLB problem with its B3 stepping and also got a bit creative with the model codes that it used. Phenom X4 9x50 denotes a quad-core B3 that effectively replaces the original Phenom. The Phenom X3 8x50 is also a B3 but is unusual in that it's a tri-core processor. Phenom is similar to Core 2 Quad in many respects but there is one significant difference as Phenom is a native quad-core design with all four cores on the same die. By contrast Core 2 Quad is a dual-core design, so Intel uses two processor dice to cobble together its four-core CPUs.
Naturally, AMD touts this difference as a major advantage for Phenom as it allows HyperTransport to strut its stuff, while Core 2 is theoretically crippled by a lousy communication path through the frontside bus and then off to the northbridge of the chipset to the memory controller.
Sponsored: Minds Mastering Machines - Call for papers now open