Nokia's E series duo mean business
Never be disconnected from the office again
Nokia could be seeking out BlackBerry fans with its latest E series phones, one of which is a dead ringer for the established email-oriented handset.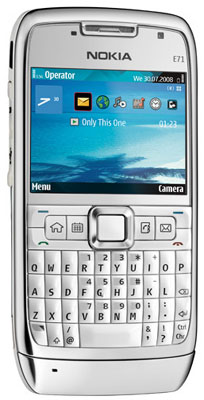 Nokia's E71: strong BlackBerry resemblance
Although it's only the E71 that features the full BlackBerry-esque Qwerty keyboard and handset styling, the E66 slider also gives off a suit-friendly feel thanks to its email connectivity options, including Gmail and Windows Live.
Nokia's apparently designed both handsets for people seeking "quick and easy access to their personal and work email". But both also come with support for staple business applications Word and Excel. It can didplay PDFs too.
The E66 has HSDPA connectivity for speedy downloads and has both Wi-Fi and Assisted GPS on board, should you get lost on the way back into the office. All work and no play is dull, though, so Nokia's equipped the phone with a 2.4in screen to display images snapped on the phone's 3.2-megapixel camera.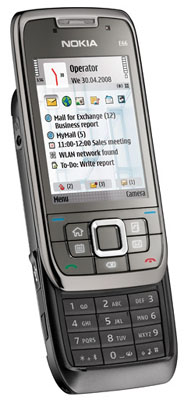 The E66: means business
Content is stored on Micro SD cards of up to 8GB, and heavy chatterers will be pleased to know that the phone's battery will hold out for at least 7.5 hours of business banter.
Users who'd rather opt for the E71 won't benefit from very many different features though, aside from the keyboard. The phone also supports Wi-Fi and HSDPA connections, and although the screen is slightly smaller on the E71 - just 2.3in - the phone's camera remains the same quality as the E66's.
Both Nokia phones are expected to be shipped to stores worldwide in July, both priced at €350 (£277/$540).
COMMENTS
Please please please....
..tell me this supports Microsoft push email or a proper equivalent you can configure right off the phone. I really regret having to ditch my old E61 in order to get the push email facility I could set up myself on my HTC phone, only to end up hating the HTC. I was waiting to upgrade for the i780 but this nokia would be it for me if it does push email configurable right off the device.
Any ideas anyone?