Glastonbury Festival forecast: very windy, hopes Orange
Giant turbine to power revellers' phones
Orange is expanding its methods for eco-friendly phone power with the trial of a wind-powered recharge tent at this year's Glastonbury Festival.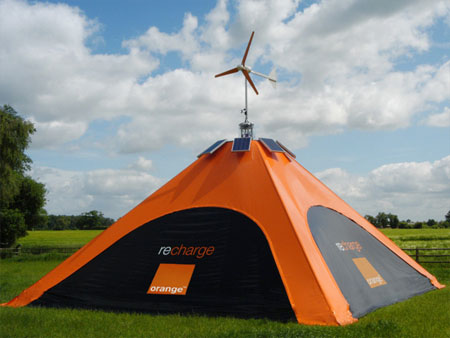 Orange's Recharge Pod uses wind power to juice-up 100 phones each hour
Last year, Orange launched a small tent-top turbine onto the mudflats of Glastonbury. This year the cellco will go one better.
Today, it announced plans for a freestanding wind-powered mobile phone charging tent, dubbed the Recharge Pod. The 7m high tent has a large windmill on top – with Orange coloured blades, of course - in addition to several solar panels in case the breeze dies down.
Inside the tent is a unit into which users lock their phones for a recharge. Many makes of handset are supported, including Nokia's line-up and the iPhone, but the Recharge Pod can only support 100 phones each hour, so the queue's bound to be longer than the one for the toilets.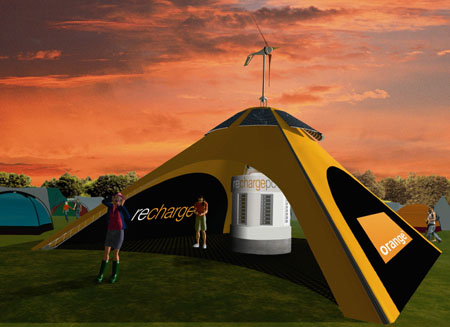 The design could be adapted for other locations, like town centres
A spokesman for Orange told Register Hardware that although the technology is fully operational, the network operator's using this year's Glastonbury Festival as test-bed for the popularity of its Recharge Pod.
"If this trial goes well, then we may look to roll out [Recharge Pod] to other normal campsites and remote locations," said the spokesman. He also added that there's nothing stopping the design being adapted for use as an eco-friendly recharge point in town centres, although Orange has no plans yet in this area.
Potentially, the recharge Pod could even be used to recharge other everyday gadgets, such as MP3 players. But such a wide scale UK roll-out covering several gadget types probably means recharging won't be free, as it will be at this year's Glastonbury Festival.
Sponsored: Minds Mastering Machines - Call for papers now open