Leaked BlackBerry clamshell pics kickstart rumours
First clamshell from RIM
More images of the first clamshell BlackBerry have been unfolded online, showing the phone from almost every direction – including the inside.


RIM's BlackBerry Kickstart is the first clamshell from the brand
An image of the device – which is thought to be codenamed 'Kickstart' – has already been appeared in public. But the latest series of pictures come courtesy of a report on website Crackberry, despite maker Research In Motion failing to have officially announced the phone yet.


Side shots reveal the phone's real size
The somewhat blurry pictures confirm the presence of a SureType keyboard, which sits on the lower half of the phone, below a screen that's thought to measure about 2.5in. A camera is also shown mounted into the phone's outer display, which could be a touchscreen.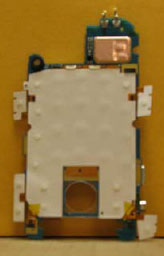 Half of the phone's guts
Precious little else is revealed about the handset by the latest pictures, over and above confirming that it features a headphone jack and USB port. Shortcut keys are also shown on one side of the phone, although the image is too dark to be certain of their specific functions.
But the images do serve well to wet the appetites of BlackBerry fans seeking a new style of phone, away from the traditional square-ish design.
Sponsored: Minds Mastering Machines - Call for papers now open