Blu-ray ramp beats DVD up-take in Europe
But not for much longer?
More Western Europeans own Blu-ray Disc players in the format's third year of availability than owned DVD players at the same stage in that technology's development.
So said market watcher and Blu-ray advocate Jim Bottoms of research company Futuresource today.
"2008 represents year three for BD and we anticipate more than 10m players, including PS3s, in use by the end of this year," he said. "Looking back to DVD's early years, we see that closer to 1.5m DVD players were installed by the end of year three [1999]."
Interestingly, BD fared less well than DVD during the formats' respective first year on sale - 2006 and 1997, respectively. In 1997, some 50,000 DVD players were sold - the best BD could manage was 10,000 units.
But from year two onwards, BD has proved more popular than DVD did at the same point in its history.
Blu-ray Disc and DVD take-up in Western Europe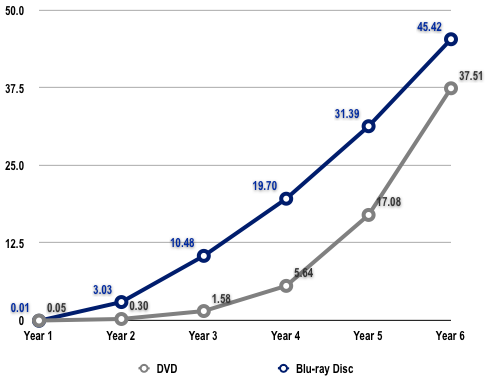 Source: Futuresource
"Looking forward, BD installations are projected to continue to run significantly ahead of DVD," said Bottoms, nonetheless. "The timing of the PS3 launch has clearly provided a big boost to the initial uptake of BD - with a number of hot games titles now starting to emerge and console prices continuing to fall we can expect to see continued strong uptake.
"Longer term, as player prices continue to fall, title availability grows and awareness increases, BD players will become the product of choice – given the fact that they also play DVD and CD media – and there will come a time when the branded suppliers focus on this higher capacity drive, mirroring the trend we saw with DVD players replacing CD decks."
Futuresource's numbers only go out as far as year six - 2011 for BD. It's interesting to see DVD narrowing the gap, and following the two lines, it could well be that year seven or year eight's numbers will see BD with a lower installed base at that stage than DVD had.
Will we all be downloading movies by then?
COMMENTS
Sometimes I post anonymously, sometimes i dont
Because i'm a bit scared to say what i really feel - even though this is the internet!
I can't wait to get home tonight and make love to my PS3.
hmmm
@ martin usher...
"Since the improvement in quality is slight" - wtf? for me its bigger than video to dvd (since i had a very good vhs player and my first dvd player was bobbins). the problem is lots of people have el cheapo 720i 'HD' tvs but then dont see the difference between that and PAL...
on a decent player with a good 1080p TV the difference is MASSIVE! even the audio sounds much crisper - and i have a decent AV system too...
mind you tho... i have a VM V+ box that can stream HD movies. and unlike the (cr)apple tv (sorry - rip off for what it is, and no surround sound?!?! wtf!) it support PROPER DOLBY DIGITAL 5.1 too... just realised i havent even had a go on that yet! prices seem pretty cheap compared to other sources too... plus i guess it uses the box's bandwidth so not limiting my daily quota :)
BD equipment runs on malware
When I buy a DVD player I only need to unlock it once. I am also sure that all DVDs that I already have and will have in the future will play on it.
With BD you are not sure of anything!
If you region-unlock the player you should expect that at some point some "clever" BD+ disc will refuse to play on it.
Even if you do not do anything you should expect that at some point you will buy a BD disc that will not play on it because the player's keys have been revoked.
Moreover, *every* time you buy a new BD disc and attempt to play it on your player you should expect your player to be disabled through a system renewability message - all at the whim of a recording studio or MPAA.
If you buy a BD player you don't own it and you don't have any rights to expect it to work.
If you like having to ask daddy's permission every time you want to do something in your own house - by all means, go ahead, buy BD. Otherwise, I recommend to think twice before doing it.
like the death of the concorde, digital download is a step backwards
Now don't take this the wrong way, but digital downloads are a step backwards in my eyes. We're willing to sacrifice quality for convenience? that's just rediculous. Digital downloads has it's place but I don't think movies are a viable option. music works because even at crappy bitrates theyre only going to get played through earphones (generally). Compare that to a movie, people want to watch a movie on a nice big TV with cracking sound, not a portable media player. I have seen the difference between SD and HD and its a nice jump. I have played a blueray in my ps3 and its unbelievable, epecially at 1080p!
This argument about it not being a step up is rubbish. 720p is a nice step up, but lets face it, that isnt true HD, 1080p is amazing in comparison to standard definition. As for the internet progressing... the bloody iPlayer nearly brought down the UK infrastructure and you're considering HD... are you mad!!?!
@Martin Usher
I'm not sure whether you're simply uninformed or being misleading in your comment.
You wrote : "If BluRay is to ever take off then its got to either be backwards compatible or sufficiently cheap that it can replace legacy kit."
First of all every Blu-Ray player can play DVDs, as well as CDs funnily enough. Most can handle MP3 discs as well. Strangely enough, they'll also upscale the DVDs over that nice shiny HDMI cable. It's been that way since day one. So, I'm not sure how you think they need more backwards compatibility.
As for the second aspect, being reasonably cheap. Blu-Ray players recently started manufacture in China which is a sure sign of dropping prices in the near future. Contrary to someone else's comment above, I don't think that the $50 price point it the one when a lot of people make the decision to opt for Blu-Ray instead of a cheap DVD player. I think that's about $100, though more people will do it as the price goes lower than this. Cheaper HDTVs are on the way too.
Folks seem to have very short memories. DVD players and disks were more expensive at this point in their introduction. Accounting for inflation and the growth of incomes, they were considerably more expensive in real terms.Color TVs cost a fortune when introduced, and their prices fell very slowly. By comparison, HDTV is being adopted by the mass market at warp speed. Both BD and HDTV are doing quite nicely. It's predominantly ex-HD-DVD fanboys and MS stooges that are pushing downloads as a realistic option - mostly because MS can't bear the idea of doing Blu on their 360 and need another option. At the end of the day, reduced quality of picture and sound is not a good deal for consumers who will end up paying more for less with less control over what they can do with their purchase than ever before. For all those blithering idiots who bash on about DRM in Blu-Ray, here's a question : while you can probably more easily copy (read steal) the movie you download, how does it's quality stack up against real 1080p Blu-Ray? Yeah, I know, it doesn't.