Sharp pitches 'world's largest' LCD screen
Monster
Not happy with the size of your 32in LCD TV? If money's no object, get on phone to Sharp, which is now taking orders for a monster 108in screen ready for connection to your HD kit.
Sharp's not saying how much the beast will set you back because it's offering the display entirely on a built-to-order basis. It's really aimed at businesses who want enormo-screens for conference rooms, shopping centres and the like.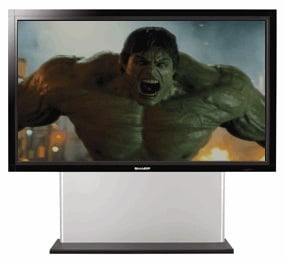 Sharp's LB-1085: monster-sized screen
Hulk image courtesy Marvel
If you can afford the LB-1085, what you get is an Advanced Super View-branded display that's the largest screen that can be cut from an eighth-generation, 2160 x 2460mm panel.
That means the screen is approximately 3.2m² - so you'd better make sure your living room can take it.
Sharp promised the LB-1085 will ship with a "rich assortment of inputs", including HDMI and DVI.
It also said the screen sports a "low-noise, fanless design" designed "to handle round-the-clock continuous operation" - perfect for those all-night back-to-back Lord of the Rings sessions, in other words.
COMMENTS
Turn the TV on
Robin: Atomic batteries to power, Turbines to speed ...
Batman: Ready to watch Cartoon Network ...
@AC
@ac surely you must have a direct connection to a power sub station for Plasma units similar to that size would consume upwards of 750 watt hours or for 5000 hours of usage some 4000 KwH give or take and an estimated MTBF of between 30,000 and 60,000 hours to reach half light power output . This would equate to life time power consumption of ouch ! , I did not need that wallet load of cash to fund the kids private schooling to pay for it's 15 year working life cycle !
As for an LCD unit they would average power consumption would be approximately half as much again for the same MTBF of 30,000 hours , but the question remains unanswered is how cheap or dear are the rare and uncommon lamps used in these units or is it cheaper to land fill it and buy a new replacement !
Strangely no mention on all units as to the relatively constant colour purity drift either (LCD's are truly a nightmare to colour balance for correct colour temperature in photography as for the newest low res 20" colour Mac well forget about that one!) !
Projectors LCD/DLP units have two problems involving the coolant condenser lens bath water suffering from bacterial bloom and lamp life is any where between 400 to 5000 hours if fitted with a special cold current inrush limiter/lamp filament pre-warmer device/half light output , the replacement globes start at $400 and rapidly climb higher as they have a very specific tight tolerance colour spectrum output . Literally one can say the incandescent lamp may work for five hours at full output or may be not (Murphy's dog would say one never has a critical replacement globe that fits and mysteriously globes of course always tend to die when the store is closed for the long holiday weekend and one must also be reminded that filament globes are the least effective in that they generate ninety five percent consumed energy as heat and need large cooling condenser lens to provide even light output per unit area from a point source as the transmission LCD's tend not to like very high operating temperatures from the illuminating lamp as their liquid changes density with temperature and switching times also change as well !
As for the CRT undoubtedly my old 30kg HP 22" 1000 series Colour Monitor will still be going strong long after any of the above flash new units have turned up their toes , lost the colour purity balance and gone to the great maker in the sky , whilst still saving a small fortune in power bills and generating far less carbon emission green house gas as well !
Alas , no technology is perfect but have you got a big enough wallet to fund the blood out of a stone kilowatt hours thus , that be the question for the new kids on the block ?
Rather old news
Sharp displayed one of these at the CES show in Jan 2007. The column where I first read about the beast decided that it wasn't intended to be a consumer product. Rather it's a demo of Sharp's glass fabrication prowess. Sharp makes displays for a lot of other companies who slap their brand name on the front, and the 108-inch is intended to attract their OEM business rather than purchases from the average consumer.
For those who wanted someone standing next to it:
http://tv.about.com/od/manufacturers/ig/2007-CES-Top-Models/Sharp-spokesmodel-Alisha-Jones.htm
But short lived
4x 1080p is set for late next year....
Paris, because she'd looked nice humping on 108 inch! lolll
Just what I wanted
To be able to watch crap-o-vision in eye-filling surroundo-view! For a mere fortune!
Oh God, we're doomed (with hyphens).